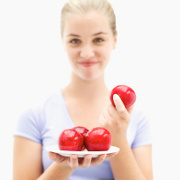 Photo: Getty Images
An ovarian cyst is caused when fluid builds up on your ovary. The National Institutes of Health website states, ʺthis occurs when a follicle breaks open and does not release an egg (during ovulation).ʺ
An ovarian cyst can grow on the ovary or in the ovary. They can range in shape from the size of a plum to a grapefruit. Women generally develop ovarian cysts during their childbearing years. It is uncommon, but not impossible, for a woman to develop a cyst during menopause.
Most ovarian cysts are noncancerous.
There are several types of ovarian cysts. One type of cyst is called the corpus luteum cyst. The other and most common type of ovarian cyst is called a follicular cyst. The corpus luteum cyst contains a trace amount of blood and the follicular cyst contains fluid. If you do not ovulate, you cannot develop follicular cysts.
According to the American College of Obstetricians and Gynecologists other types of ovarian cysts are:
• Dermoid cysts
• Cystadenomas
• Endometriomas
For more information on these types of cysts, you can go to http://www.acog.org/publications/patient_education/bp075.cfm or any of the additional sources listed below:
Many times, you will have no symptoms if you have an ovarian cyst. According to the National Institute of Health (NIH), ovarian cysts symptoms may include:
• Pain during bowel movements
• Pain in the pelvis before your period
• Pain after beginning a menstrual period
• Bloating in the abdomen
• Swelling in the abdomen
• Pain with intercourse
• Pelvic pain during movement
• Pelvic pain (constant, dull and aching)
In regards to ovarian cyst pain, pain may occur in the right or left lower quadrant of your lower abdomen.
Also, contact your doctor immediately, if you have nausea and vomiting with sudden or severe pelvic pain. This may be a sign of a ruptured cyst with possible internal bleeding.
According to the American Academy of Family Physicians, a cyst can shrink on its own over one to three months. If you have a cyst, your doctor will monitor the progress and size of your cyst over a few of your period cycles. If the cyst grows in size, they may order a sonogram. Also, you may be prescribed birth control bills to stop ovulation and possible reduce the size of your cyst. If you develop a cyst during your menopause days, your doctor may want to remove the cyst surgically. Depending on the size of the cyst, you may need with a laparoscopy or a laparotomy.
For additional information on ovarian cysts, you can find key information at these websites:
American Academy of Family Physicians (AAFP)
(800) 274-2237
http://familydoctor.org
Agency for Healthcare Research & Quality (AHRQ), HHS
(301) 427-1364
http://www.ahrq.gov
American Congress of Obstetricians and Gynecologists (ACOG)
(202) 638-5577
http://www.acog.org/publications/patient_education/bp075.cfm
American Society for Reproductive Medicine (ASRM)
(205) 978-5000
http://www.asrm.org
Eunice Kennedy Shriver National Institute of Child Health and Human Development (NICHD), NIH, HHS
(800) 370-2943
http://www.nichd.nih.gov/womenshealth
International Council on Infertility Information Dissemination Inc. (INCIID)
(703) 379-9178
http://www.inciid.org
Sources:
Ovarian cysts fact sheet | womenshealth.gov . womenshealth.gov . Retrieved September 13, 2011, from
http://www.womenshealth.gov/publications/our-publications/fact-sheet/ovarian-cysts.cfm
ACOG Education Pamphlet AP075 -- Ovarian Cysts. American Congress of Obstetricians and Gynecologists. Retrieved September 13, 2011, from http://www.acog.org/publications/patient_education/bp075.cfm
Ovarian cysts: MedlinePlus Medical Encyclopedia. National Library of Medicine - National Institutes of Health. Retrieved September 13, 2011, from http://www.nlm.nih.gov/medlineplus/ency/article/001504.htm
Zaykoski, L. The Symptoms of A Ruptured Ovarian Cyst | LIVESTRONG.COM. LIVESTRONG.COM - Lose Weight & Get Fit with Diet, Nutrition & Fitness Tools. Retrieved September 13, 2011, from
http://www.livestrong.com/article/18133-symptoms-ruptured-ovarian-cyst/
Ovarian Cyst -- familydoctor.org. Health information for the whole family -- familydoctor.org. Retrieved September 13, 2011, from
http://familydoctor.org/online/famdocen/home/women/reproductive/gynecologic/279.html
Reviewed September 13, 2011
by Michele Blacksberg R.N.
Edited by Jody Smith