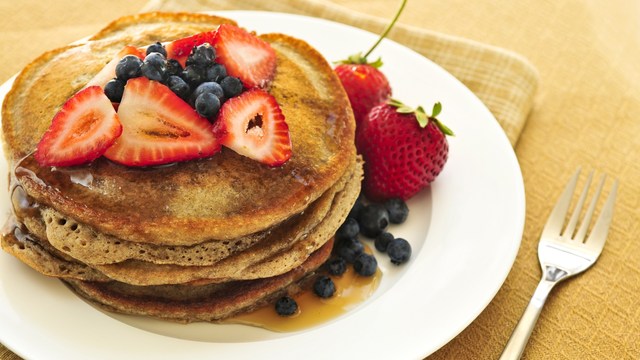 Elena Elisseeva/PhotoSpin
July is by far my favorite month with fireworks, celebration and vacation. It is also a time to eat healthy, cool and light.
We should be thinking red, white and blue but let's put special focus on the blue. July is National Blueberry Month and this wonderful fruit is packed with antioxidants.
BlueberryCouncil.org cites the U.S. Department of Agriculture as saying, "Blueberries contain a category of phytonutrients called polyphenols. This group includes anthocyanins which give blueberries their blue color. Research suggests that polyphenols have antioxidant and anti-inflammatory properties that can play an important role in helping to lessen the inflammatory process associated with chronic conditions like cardiovascular disease, cancer, and age-related cognitive decline."
So in honor of this bountiful food, below are some red, white and blue foods to help celebrate this holiday season.
BERRY PROTEIN PANCAKES
• 2 scoops of whey protein
• 1/2 tsp. Stevia powder
• 3 eggs, beaten
• 1 cup of regular instant oatmeal
• 1/4 cup of blueberries
Combine all ingredients in the bowl and mix to a batter consistency.
Spoon onto hot, lightly greased griddle or skillet.
Serve with sugar-free syrup.
Makes 6-8 small pancakes/1 serving
BLUEBERRY RASPBERRY CREPES
• 1 egg
• 1 cup of vanilla Greek yogurt
• 1 tsp. safflower oil
• 1/4 tsp. Stevia powder
• Dash vanilla
• 1/4 cup of fresh blueberries
• 1/4 cup of fresh raspberries
• Butter flavor cooking spray
Mix together 1 egg, 1 tbsp. of yogurt, oil and vanilla.
Spray a nonstick pan or skillet with butter flavor spray.
Spoon out two crepes in pan.
Carefully remove from pan and let cool.
Mix remainder of yogurt with Stevia and berries.
Fill crepes with yogurt mixture.
FRUIT AND CHEESE KABOBS
• 1 cup of blueberries
• 1 cup of red grapes
• 1 cup of sliced bananas
• 1 cup of cubed Swiss cheese
• Skewers
Thread onto skewers in a red, white and blue pattern: grape, banana, blueberry and cheese.
Repeat.
BLUEBERRY SHERBERT
* 1/2 cup of frozen blueberries
* 1/2 cup of milk of choice (almond, coconut, rice, hemp or non-fat)
* 1 scoop of vanilla whey protein powder
* 2 scoops of light whip topping
* 1 packet of Splenda or Stevia powder
Combine all ingredients in blender or food processor.
Transfer to a container and freeze for at least 2 hours.
Sources:
"Blueberry Month – NABCBlues.org." North American Blueberry Council. Web 3 July 2014.
http://www.nabcblues.org/blueberrymonth.htm
"Healthy Living – Blueberrycouncil.org." U.S. High Blush Blueberry Council. Web 3 July 2014.
http://www.blueberrycouncil.org/healthy-living/health-benefits-blueberries
"National Agriculture Council – USDA.gov." United States Department of Agriculuture. Web 3 July 2014.
http://agricola.nal.usda.gov/cgi-bin/Pwebrecon.cgi?&DB=local&v2=1&CNT=20&CMD=3325467&STARTDB=AGRIDB
http://www.ars.usda.gov/is/ar/archive/apr09/plants0409.htm
Joanne Sgro-Killworth is a Television Fitness Expert, Certified Personal Trainer and Sport Nutritionist and Publicist. She is Certified in Pilates, Pre-natal/Post-Partum, Yoga and Senior Fitness. She specializes in Weight Loss, Post-Rehab and Post Cancer Training.
Joanne's fitness plans, recipes and lifestyle advice are available globally on her website http://www.happiwoman.com/ She resides in the Phoenix, AZ area with her husband and son, where she runs her fitness and publicity business, JSK PR, http://www.jskpr.com/
Reviewed July 4, 2014
by Michele Blacksberg RN
Edited by Jody Smith
Tags: