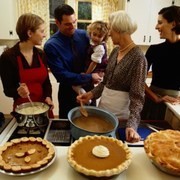 Ryan McVay/Photodisc/Thinkstock
Thanksgiving dinner and football games are both true American traditions. But are most of us going to be playing the eating game while we pack on about 3,000 calories?
That is what is in the Thanksgiving meal, according to research from the Calorie Control Council. The organization also says that an additional 1500 calories are consumed and more than 200 grams of fat in just one day.
"Combined, that's the equivalent of more than 2 1/4 times the average daily calorie intake and almost 3 1/2 times the fat. The typical holiday dinner can be loaded with 45 percent of calories from fat. In fact, the average person may consume enough fat at a holiday meal to equal three sticks of butter."
Let's start with the bird. According to Advanceyourhealth.org, the typical turkey cooking process is approximately 400 calories per helping.
They suggest, "swapping out the brining process for a bit of white miso paste, and use a rub made mostly of olive oil, lemon juice and garlic, you're looking to save about half the calories, but still maintain that savory depth of flavor."
If you prefer dark turkey meat over the white meat, CBS.com suggests, "Going for the drumstick will save you a little -- 240 calories compared to 270, but because much of what's in a drumstick is bone, and it takes longer to eat, you may feel like you're eating more."
Let's head to the sidelines for some delicious alternative side dishes. In an article on Shape.com Holly Corbett, suggests cooking the stuffing separate and not in the bird to save on fat.
She also suggests healthier carbs for ingredients, "One more trick to slim down stuffing: Prepare it with barley instead of bread for a high-fiber, whole grain alternative."
The article features some healthy ways to spice up your sweet potatoes.
"Rather than using maple syrup to add flavor, try mixing in spices such as ginger and cinnamon…For a tangy taste, add a little orange juice—you won't even miss the marshmallows on top!"
Who said you had to mash potatoes for a creamy decadent side dish? My mother-in-law uses the South Beach Cauliflower Mash recipe below each year as an alternative.
Cauliflower Mash
4 cups cauliflower florets
2 tablespoons butter flavored cooking spray
2 tablespoons fat-free half-and-half
Salt
Freshly ground black pepper
Steam or microwave cauliflower until soft, then puree in food processor.
Add the butter spray and the half-and-half to taste.
Season with a pinch of salt and pepper and serve warm.
Makes six servings.
If you love pie, opt for pumpkin instead of pecan and according to AdvancingYourHealth.org, you will save 250 calories.
"Another pumpkin advantage: The typical topping is whipped cream, rather than ice cream, which is more typical of pecan. A half-cup scoop of premium vanilla ice cream tacks on an extra 250 calories as opposed to just 25 for 2 Tbsp whipped cream. Leave the crust behind and you'll save an additional 110 calories per slice."
However, if you do not want to forego the pecan or the crust, combine the two. Below is one of my original recipes for pumpkin pie with a pecan crust.
Pumpkin Pecan Pie
2 cups of pumpkin puree
½ cup of Stevia powder
½ cup of raw brown sugar
½ tsp of vanilla
½ tsp of cinnamon
½ tsp of nutmeg
4 large eggs
1 cup of Greek yogurt
½ cup of almond milk
Combine all ingredients together in mixing bowl and fill pie crust.
Pie Crust
1 cup of ground pecans,
2 tbsp butter and raw brown sugar
Mix ingredients.
Press firmly into pie plate.
Bake at 350 degrees for about 50 minutes.
Online References:
"Stuff The Bird Not Yourself – CalorieControl.org." Calorie Control Organization. Web 20 November 2012.
http://www.caloriecontrol.org/articles-and-video/feature-articles/stuff-the-bird-not-yourself
"Cut Empty Calories from Your Thanksgiving Holiday Recipes – AdvancingYourHealth.org." Emory Healthcare. Web 20 November 2012.
http://advancingyourhealth.org/bariatric-weight-loss/2011/11/02/cut-calories-thanksgiving-recipes-healthy
"Cut Half Thanksgiving Calories and Still Enjoy! – CBSNews.com. CBS News. Web 20 November 2012.
http://www.cbsnews.com/2100-500165_162-7078629.html
"Thanksgiving Dinner: 6 Easy Ways to Cut Calories - By Holly C. Corbett – Shape.com."
Web 20 November 2012.
http://www.shape.com/healthy-eating/meal-ideas/thanksgiving-dinner-6-easy-ways-cut-calories
http://www.shape.com/healthy-eating/meal-ideas/thanksgiving-dinner-6-easy-ways-cut-calories?page=4
"Cauliflower Recipes – Southbeach-dietrecipes.com." South Beach Diet. Web 20 November 2012.
http://www.southbeach-dietrecipes.com/p/Cauliflower_Recipes#mash
Joanne Sgro-Killworth is a Television Fitness Expert, Certified Personal Trainer and Sport Nutritionist. She is Certified in Pilates, Pre-natal/Post-Partum, Yoga and Senior Fitness. She specializes in Weight Loss, Post-Rehab and Post Cancer Training.
Joanne's fitness plans and recipes are available globally on her website www.fitnessanswer.com. She resides in the Phoenix, AZ area with her husband and son, where she runs her personal training business, Fitness Answer, LLC.
Reviewed November 20, 2012
by Michele Blacksberg RN
Edited by Jody Smith