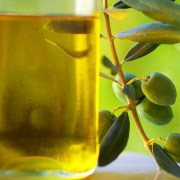 Photo: Getty Images
You've heard a lot of talk about The Mediterranean Diet and its main staple olives and olive oil. In fact, according to Everynutrient.com, "Health researchers have been lauding the benefits of the olive and its oil for decades, and the olive rightfully holds a place of honor in the healthful Mediterranean diet." They go on to say that, "Research has shown that it is the type of fat consumed that determines the risk of conditions such as diabetes, atherosclerosis, colon cancer, arthiritis, and asthma."
According to the Centers for Disease Control, "Most of the fat that you eat should come from unsaturated sources: polyunsaturated fats and monounsaturated fats. In general, nuts, vegetable oils, and fish are sources of unsaturated fats." Olives may be high in fat, but they are an excellent source of monosaturated fat containing oleic acid. They are also rich in Vitamin E.
Monounsaturated and and polyunsaturated fats are considered good fats and do not raise one's LDL cholesterol level or "bad" cholesterol. This is unlike, tran-fats and saturated fats which both raise one's LDL.
According to the American Heart Association, "Monounsaturated fats and polyunsaturated fats appear to not raise LDL cholesterol; some studies suggest they might even help lower LDL cholesterol slightly when eaten as part of a low-saturated and trans-fat diet."
Here are some of my personal favorite recipes featuring the almighty olive.
TUNA OLIVE SPINACH SALAD
• 6 oz grilled tuna steak
• 1 cup fresh spinach
• 1 chopped hard-boiled egg
• 8 black olives; chopped
• 1 ripe Roma tomato cut into wedges
• Balsamic Vinegar
Cook tuna on grill or broiler. While tuna is cooking, mix spinach, black olives and tomato in large bowl. Add sliced tuna steak. Garnish with egg. Drizzle with balsamic vinegar.
SICILIAN OLIVE CHICKEN
• 8 oz Chicken Breast; chopped
• 2 tbsp. of chopped onion
• Dash of garlic powder
• 8 pitted ripe olives
• 1 tbsp.of olive oil
• 1 tsp. of capers
• 1 roma tomato, diced
Saute onion and chicken in olive oil until cooked through. Add garlic powder, capers, olives and tomatoes. Simmer for another 3-5 minutes. Serve with side Caesar Salad.
SUNDRIED TURKEY TOMATO SALAD
(1) 6 oz. can of turkey
¼ cup of jarred sundried tomatoes in olive oil
¼ cup of sliced black olives
3 cups of endive salad; cleaned and chopped
2 tbsp. of balsamic vinegar
Mix turkey, sun-dried tomatoes and black olives together in bowl.
Serve on top of endive salad and top with 2 tbsp. of balsamic vinegar
Online References:
http://www.everynutrient.com/healthbenefitsofolives.html
http://www.cdc.gov/nutrition/everyone/basics/fat/unsaturatedfat.html
http://www.heart.org/HEARTORG/Conditions/Cholesterol/PreventionTreatmentofHighCholesterol/Know-Your-Fats_UCM_305628_Article.jsp
Reviewed July 29, 2011
by Michele Blacksberg R.N.
Edited by Shannon Koehle
Joanne Sgro-Killworth is a Television Fitness Expert, Certified Personal Trainer and Sport Nutritionist. She is Certified in Pilates, Pre-natal/Post-Partum, Yoga and Senior Fitness. She specializes in Weight Loss, Post-Rehab and Post Cancer Training. Joanne's fitness plans and recipes are available globally on her website www.fitnessanswer.com. She resides in the Phoenix, AZ area with her husband, where she runs her personal training business, Fitness Answer, LLC.
Tags: