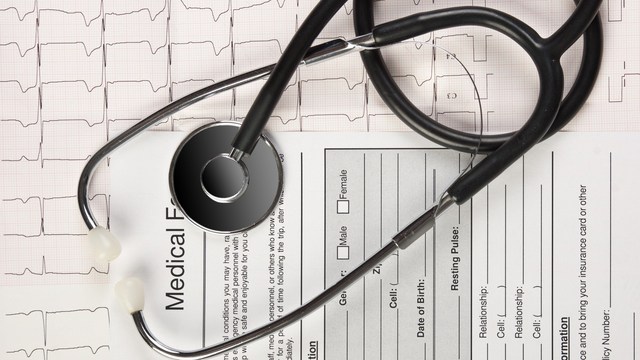 Laborant/PhotoSpin
Written By Amanda Woerner for Fox News
One million hours: That's how long psychiatrists across the country spend each year, waiting to get approval from insurance companies before they're able to hospitalize suicidal or mentally ill patients from the emergency room, according to estimates from a new study in the Annals of Emergency Medicine.
Unlike other doctors, psychiatrists are required to seek permission from a patient's insurance company, before admitting anyone to the hospital from an emergency room.
"If we think logically about what it would be like if someone came into the ER with a life-threatening illness and they had to wait to get admitted – that would be ridiculous," study author and child psychiatry fellow at Brown University, Dr. Amy Funkenstein told FoxNews.com. "Our patients have life-threatening illnesses too, and we need to not question whether they deserve the hospitalization."
After determining a patient needs to be treated – often because he or she is suicidal, psychotic or even homicidal – psychiatrists must call the patients' insurer and present their case as to why they believe hospitalization is necessary. They present initially to an administrator and then to a social worker. If the case is denied by the social worker, the psychiatrists must present their case to a doctor.
Approval is required for all insured patients – except those on Medicare.
Funkenstein became increasingly frustrated with the insurance approval process while completing her psychiatric residency, so she asked her colleagues to begin recording the amount of time they spent seeking insurance approval – as well as the total time their psychiatric patients spent waiting in the ER, over the course of three months.
The study, published April 23, showed the approval process takes on average, 38 minutes, and with approximately 1.6 million psychiatric admissions requiring approval every year, that translates into 1 million hours of a psychiatrist's time, which Funkenstein described as "wasted."
Funkenstein pointed out the process can often take much longer.
"I once had a child who boarded for three days in the ER because the social worker didn't believe admission was appropriate, while I waited for a doctor from the insurance company to call me back," Funkenstein said.
The study also revealed the median time psychiatric patients spent in the emergency room before being admitted was 8.5 hours.
Incidentally, Funkenstein noticed that despite all the time spent requesting authorization, only one in 53 cases were denied.
"You're waiting for 40 minutes to present a five-minute case, and they always said, 'OK.' You're wasting hours every night with no change in the (outcome)," Funkenstein said.
Funkenstein hopes her research will help grant psychiatrists the same freedom that other medical doctors have – to admit patients freely, based on their own clinical expertise.
"Ideally, we would have a similar system to what our medical colleagues have," Funkenstein said. "We make a decision – (a patient) needs to be admitted, and we don't have to call the insurance company."
Funkenstein said she believes psychiatric disorders are often seen as less medically urgent because people don't understand them. She also pointed out that people suffering from mental illness are often not able to demand better care.
"These are homeless individuals, veterans; this is this disenfranchised group," Funkenstein said. "We're stuck as a profession, and the only people to advocate for these patients are us."
Related Links:
Report details flaws in Army's handling of PTSD
http://www.foxnews.com/health/2013/03/08/report-details-flaws-in-army-ha...
Brain scans reveal doctors actually feel their patients' pain -- and relief
http://www.foxnews.com/health/2013/01/31/brain-scans-reveal-doctors-actu...
New scan reveals proof of brain damage in living, retired NFL players
http://www.foxnews.com/health/2013/01/22/new-scanning-technique-reveals-...
This article originally appeared on Fox News:
http://www.foxnews.com/health/2013/04/23/psychiatrists-spend-1-million-h...