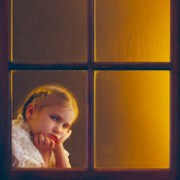 Photo: Getty Images
The infamous "haboobs" or dust storms have recently been hitting Arizona residents as part of monsoon season. While these massive walls of dust, and sometimes rain, can certainly put a damper on one's day, can they actually affect mental health?
Experts have different opinions on whether women can suffer from seasonal affective disorder (SAD) or depression during monsoon season.
David Reiss, a psychiatrist, said in an email, SAD generally refers to a disorder that people suffer from during the winter.
"Physiologically, this is thought to be due to decreased exposure to sunlight and changes in diurnal body rhythms," Reiss said. "There are definite studies that show that some persons who become depressed during months of decreased light respond to the use of artificial sunlamps," Reiss said.
However, in his experience there are more cases of mood fluctuations associated with season and weather instead of "true" SAD cases. Depending on the individual and life experiences, changes in the weather can impact people psychologically, even if they don't suffer from SAD.
"People who are generally more active and outgoing may feel a 'let down' in times of bad weather when activity becomes limited," Reiss said. "This may well be a vicious cycle of a negative psychological effect . . . along with the physiological effects of less exercise, less activity, etc."
Some people feel more socially limited and lonely during bad weather, while others enjoy having less social demands during that time, he said.
In general, people may feel unhappy or anxious during bad weather because of the possibility of being harmed. People who have actually been injured during bad weather could have very negative reactions.
However, some people who are in more supportive households and environments might focus on the "togetherness" caused by being cooped up in a house because of a storm, and the enjoyment of relief from certain duties, Reiss said.
He suggests taking care of basic needs to cope with monsoon season, like exercise, nutrition, sleep, entertainment and social support. It might be useful to look inside and discover the reasoning behind negative feelings during bad weather.
Nicole McCance, a psychotherapist, believes monsoon season can cause SAD in some women, but most often during winter. Women might experience depression in a more general sense as well.
"It is common to experience the blues and fatigue during prolonged cloudy periods with little or no sunlight," McCance said in an email. "Most people experience the blues during grey days and, if they spend a lot of time focusing on the negative (stormy weather), this could lead to the habit of focusing on other negative aspects of their life. With a constant focus on what is wrong in their life and focusing on what they can not control, this could lead to situational depression."
McCance suggests using light therapy, taking a vitamin D supplement, using a tanning bed every now and then, walking outside (even in the rain), exercising, and talking to a psychotherapist in order to cope with or prevent any SAD or depression symptoms.
Sources:
Reiss, David. Email interview. July 18, 2011.
McCance, Nicole. Email interview. July 19, 2011.
Reviewed July 20, 2011
by Michele Blacksberg R.N.
Edited by Shannon Koehle