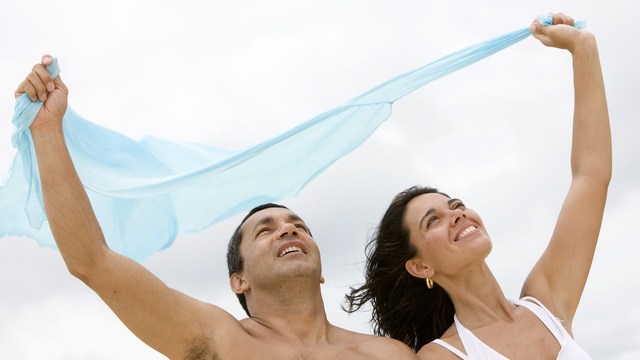 Andres Rodriguez/PhotoSpin
We've all seen the Viagra commercials full of happy men, but where are the commercials full of ecstatic, sexually satisfied women? Those could be coming soon to a TV near you.
There is a new drug in the clinical trial phase that is expected to improve sexual desire in women. The magical sexual pill is called Lybrido.
The pill is supposed to treat hypoactive sexual desire disorder (HSDD), according to Clinicaltrials.gov. HSDD is actually considered a mental disorder and is included in the Diagnostic and Statistical Manual of Mental Disorders (DSM IV-TR).
It's defined as "a deficiency or absence of sexual fantasies and desire for sexual activity," and "the disturbance must cause marked distress or interpersonal difficulty," according to the DSM.
An article on the pill in The New York Times suggested that even if pills like Viagra and the future Lybrido both treat sexual disorders, the causes of sexual problems vary. Viagra helps a physical problem of erectile dysfunction, whereas Lybrido focuses on changing the brain in a way to improve desire and drive.
Experts explore how women's brains and mental health could be impacted by a future sexual desire drug like Lybrido, and look into the connection between sexual desire and mental health.
Dr. Sue Decotiis, board-certified in internal medicine, specializes in hormone replacement therapy and said in an email that women's sexual desire and mental health are closely related.
"If a woman is depressed, anxious or stressed, her libido and/or capacity to reach orgasm will decline," Decotiis said.
She said that on the opposite end of the spectrum, women with bipolar disorder can sometimes experience periods of "reckless sexual behavior."
In regards to sexual dysfunction, Decotiis suggested that it can sometimes be related to low testosterone. This is especially true for women on birth control pills and for women who are stressed. Therefore she recommended making sure hormonal imbalances aren't part of the problem.
"Lybrido may indeed prove itself to be a valuable tool in the treatment of HSDD," she said. "However, let's not forget how the human body works and avoid correcting important hormonal balances that affect not just a person's sex drive but entire body and health span."
Dr. Tara Allmen, a board-certified obstetrician and gynecologist, said in an email that sexual desire and mental health go hand-in-hand.
"Women who are experiencing mood issues would likely experience diminished desire as well," Allmen said. "A medication that would improve sexual desire would positively enhance mental health, since the women seeking this treatment are the ones distressed about their low desire."
Both antidepressants and birth control pills are known to decrease sexual desire in women, so potentially a pill like Lybrido could also provide a solution to that problem. However, nothing is certain since trials are not completed, and the clinical trials website excludes women from the study who are on either of those medications, it appears.
If Lybrido does become available, a doctor would need to determine if it is advisable to take Lybrido with other pills that affect hormones and other chemicals of the body.
Dr. Angela DeRosa, an expert in women's health and internal medicine, said in an email that many women's problems with lack of sexual desire could probably be solved by getting a boost of testosterone.
Lybrido incorporates testosterone, while allowing an exchange of dopamine and serotonin. The pill would temporarily lower serotonin and increase testosterone to get the desired result of increased sexual desire.
"These drugs do have some interesting promise," DeRosa said. "However, before we start giving drugs to women to treat the desire disorders, one needs to investigate the root cause. Desire is not simple in women."
The New York Times article also goes into the issues of low sexual desire in women, suggesting monogamy itself and boredom with long-term partners could be factors.
"We need to address psychological issues, including bad relationships causing low
desire, emotional traumas such as rape or sexual abuse, medical reasons for low desires, such as chronic illness or medication induced, etc.," she added. "Treating women with testosterone or any other drug will not work if these issues are not addressed."
Sources:
Bergner, Daniel. The New York Times. Unexcited? There May Be a Pill For That. Web. May 29, 2013.
http://www.nytimes.com/2013/05/26/magazine/unexcited-there-may-be-a-pill-for-that.html?pagewanted=1&_r=3&ref=science&
Clinicaltrials.gov. U.S. National Institutes of Health. Lybrido for Female Sexual Dysfunction. Web. May 29, 2013.
http://clinicaltrials.gov/ct2/show/study/NCT01432665
American Psychiatric Association. Diagnostic and Statistical Manual of Mental Disorder: Fourth Edition: Text Revision. Arlington, VA: American Psychiatric Association, 2000.
http://www.psychiatry.org/practice/dsm/dsm-iv-tr
Decotiis, Sue. Email interview. May 29, 2013.
http://www.drdecotiis.com
Allmen, Tara. Email interview. May 29, 2013.
http://drallmen.com/about
DeRosa, Angela. Email interview. May 29, 2013.
http://derosamedical.com
Reviewed May 30, 2013
by Michele Blacksberg RN
Edited by Jody Smith