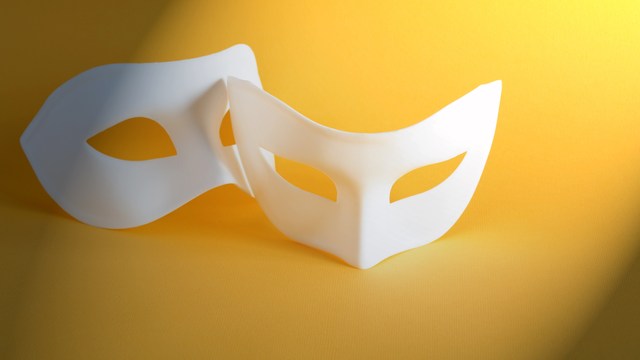 Konstantin Kirillov/PhotoSpin
If you're like many Americans, Halloween costume shopping is on your to-do list. After all, it's fun to dress up like someone or something you're not. But a disguise isn't always a good idea. Not, for instance, if you suffer from a mental health disorder.
what about taking the time to show others who you truly are?
When you live with a mental health disorder, it can eventually become second nature to wear a costume or disguise 24/7. At least it has for me, since depressed and anxious behaviors and viewpoints aren't valued in this society.
However, mental health organizations are encouraging people with mental health issues to speak out and share their stories with the world this month in order to raise awareness of all such conditions, and hopefully to increasingly reduce stigma.
For example, Mental Illness Awareness Week is October 5 to 11, National Depression Screening Day is October 9, National Bipolar Awareness Day is October 10, and World Mental Health Day is October 10.
OCD Awareness Week is October 13 to 19, and the whole month of October is ADHD Awareness Month.
Please see the links below for more information.
Now that you're aware of different ways/events to raise mental health awareness this month, you can start broaching the topic with others.
For people who haven't suffered from mental illness, it can be difficult to find the right words to say to someone who is currently suffering.
Here are eight statements you may want to avoid saying to someone who is suffering from both anxiety and depression.
1) "You don't have depression, you're just sad. You'll get over it soon. Everything will be OK."
Generally this statement comes from a lack of understanding of what depression actually is. And sometimes it comes from people who don't believe depression exists. Either way, it is completely invalidating.
2) "I've felt depressed before too, but I just got over it eventually."
A lot of people still confuse "depressed" with "sad." Every human being has felt sad at one point, even "low" or "blue." However, it's completely different to feel like life is not worth living, and to hardly be able to drag oneself out of bed and barely function for extended periods of time.
3) "You just have to look at things differently. It's not the end of the world."
Yep. No kidding. I think that's one of the main struggles of anyone who has a mental illness. I have struggled my whole life with being able to see the world in a different way. However, you telling me that will not make it happen overnight.
4) "Just exercise more, it'll make you feel better."
Research does show that exercise can help alleviate depressive symptoms. However, I would like to point out that at my healthiest time in high school, I was exercising one to two hours most days and I was severely depressed.
I also exercise at least three times a week currently and am still depressed. Exercise is not a cure for depression unfortunately.
5) "Eat more fruits and vegetables and take Vitamin D supplements and St. John's Wort and…"
A healthy diet can do wonders, and supplements can help if your body is deficient in certain nutrients. However, again diet alone is not going to "cure" or effectively treat depression.
I am definitely open to new diets or supplements that I haven't tried yet. But keep in mind, I've had depression since elementary school and have tried enough treatment options to make your head spin.
This statement frustrates me mainly because it suggests in some way that depression is my fault, that if I only ate better I could somehow fix my depression.
6) "Just try to calm down."
Telling someone with anxiety to calm down is like trying to tell someone who is paralyzed to just walk.
7) "You need to reduce your stress."
If I reduced my stress any more, I wouldn't be living a life. Believe me, I have already tried this as much as possible. Unfortunately, even simple things in life stress me out excessively.
8) "But you look and act so calm!"
This can actually sometimes be taken as a compliment. It means that my acting is working. However, it's also frustrating because inside I feel like complete chaos and am possibly having a panic attack as we speak.
Keep in mind that these statements have come across as slightly offensive and invalidating to me personally, but other individuals with depression and anxiety might not necessarily be offended by them.
Sources:
National Alliance on Mental Illness. Mental Illness Awareness Week, Oct. 5-11, 2014. Web. October 8, 2014.
http://www.nami.org/template.cfm?section=mental_illness_awareness_week
National Alliance on Mental Illness Massachusetts. Mental Health and Substance Abuse Calendar 2014. Web. October 8, 2014.
http://www.namimass.org/events/mental-health-substance-abuse-calendar-2014
International Bipolar Foundation. Say it Forward Campaign. Web. October 8, 2014.
http://www.sayitforwardcampaign.org
Screening for Mental Health, Inc. National Depression Screening Day. Web. October 8, 2014.
http://mentalhealthscreening.org/programs/initiatives
Screening for Mental Health, Inc. Help Yourself. Help Others. Web. October 8, 2014.
http://www.helpyourselfhelpothers.org
Reviewed October 10, 2014
by Michele Blacksberg RN
Edited by Jody Smith