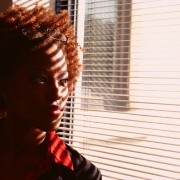 Photo: Getty Images
Lupus. Now there's a word most of us don't hear every day. Most of us don't even know what it is. Wouldn't recognize its symptoms in its sufferers. This helps make lupus an invisible disease.
So what is this lupus? It has nothing to do with the full moon, or werewolves. Lupus is an autoimmune disease. That means that the immune system not only attacks toxins, it also attacks parts of the body. The upshot of this can be an assortment of unpleasant symptoms, depending on the type of lupus.
Systemic lupus erethematosus is the most common type. SLE can affect many areas of the body.
Discoid lupus brings with it a permanent rash or scaliness to the skin. Sores may develop in the nose or mouth.
Subacute cutaneous lupus causes sores to erupt after sun exposure.
Drug-induced lupus, initiated by drugs like procainamide and hydralazine, can cause fever as well as joint and muscle pain. Generally, symptoms are mild and disappear after the prescription course is finished.
A rare form, neonatal lupus, affects new babies of women who have lupus. Symptoms such as rashes, liver problems and low blood cell count usually disappear by the time the infant is a few months old. A serious heart defect is also possible. Most mothers with lupus will have healthy babies however.
Women are more at risk than men for lupus. African American, Asian, Native American and Hispanic women are particularly vulnerable.
Having lupus creates greater risk of heart disease, high blood pressure, high cholesterol, type 2 diabetes, as well as osteoporosis and bone fractures. For most sufferers, lupus only affects localized areas of the body. This person might have swelling in their legs. That person might deal with overwhelming exhaustion. Another might have chronic fever.
The cause of lupus is still unknown. Research is being done concerning environment and hormonal factors and irregularities of the immune system. No cure for lupus has been found yet.
Some medications and lifestyle changes can help to manage it. Lupus sufferers have used immunosuppressive drugs, anti-malarials, anti-inflammatories and corticosteroids meant for other conditions. NSAIDS are often used for milder symptoms.
HealthDay News reported on December 24, 2010 that optimism was high concerning Benlysta (belimumab), a drug being evaluated for lupus. Benlysta decreases the hyperactive communication between B cells and T cells in the immune system. This may allow the immune system to still be able to fight real infections, without being hypervigilant in attacking the body itself. Benlysta was recently endorsed by a U.S. Food and Drug Administration advisory panel.
Ideally, this invisible disease will ultimately disappear altogether.
Resources:
Lupus Treatment May Soon Take Leap Forward
http://www.nlm.nih.gov/medlineplus/news/fullstory_107016.html
Human genome lupus drug benlysta has snagged in one goal
http://lupus-disease.net/human-genome-lupus-drug-benlysta-has-snag-in-one-goal.html
WomensHealth.gov: Lupus
http://www.womenshealth.gov/faq/lupus.cfm
MedlinePlus: Lupus
http://www.nlm.nih.gov/medlineplus/lupus.html
Visit Jody's website and blog at http://www.ncubator.ca and http://ncubator.ca/blogger