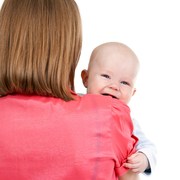 Kudrin Ruslan/PhotoSpin
What is Lactose Intolerance?
Lactose intolerance occurs when the body doesn't break down the lactose in milk because the lactase enzyme is either not present at all or not functioning properly. (3) Lactose is a form of sugar.
According to a report by the Committee on Nutrition of the American Academy of Pediatrics, approximately 70 percent of the world's population has primary lactase deficiency -- that is, partial or complete absence of lactase that can develop during childhood.
Lactose intolerance is most prevalent in 50 percent to 80 percent of Hispanics, 60 percent to 80 percent of Ashkenazi Jews and blacks, and nearly 100 percent of Asian and American Indians.
"Approximately 20% of Hispanic, Asian, and black children younger than 5 years of age have evidence of lactase deficiency and lactose malabsorption, whereas white children typically do not develop symptoms of lactose intolerance until after 4 or 5 years of age." (4)
Symptoms of Lactose Intolerance
Symptoms of lactose intolerance include:
• Abdominal pain
• Diarrhea
• Nausea
• Flatulence
• Bloating
What is a Milk Allergy?
In the case of a milk allergy, the body attacks the casein or whey proteins in milk with antibodies as if they are a threat.
In theory, heating the milk can break down the whey and reduce a child's reaction. However, the majority of allergic reactions to milk involve both the casein and whey, so drinking milk should be avoided. Young children are most commonly affected by milk allergies. (3)
According to Dr. Harris Steinman's report published on the Science in Africa On-Line Science Magazine, approximately 1 percent to 7 percent of all children will develop a milk allergy.
Symptoms of a Milk Allergy
Symptoms indicating the body's immune response to milk proteins can appear immediately or up to several hours or days following the intake of moderate to large amounts of cow's milk including dairy products (i.e., ice cream, cheese, yogurt).
Symptoms of a milk allergy may include, among others (2, 3):
• Nausea
• Vomiting
• Diarrhea
• Abdominal cramps
• Hives or eczema
• Irritability
• Chronic runny nose
• Chafed skin on the buttocks
Dr. Steinman's report contains a more complete list of potential symptoms.
There is no cure for a milk allergy. The only treatment is complete avoidance of milk and foods that contain milk, as well as products that contain whey or casein.
You can see a full list of ingredients to avoid in Table 2 included in Dr. Steinman's report.
However, since cow's milk is a major source of many nutrients including calcium, which the body needs to keep bones and teeth healthy, supplements or substitutes need to be added to the diet if milk and dairy products are eliminated.
Sources:
1) Food Intolerance. Food Reactions. Web. Dec 5, 2012.
http://www.foodreactions.org/intolerance/index.html
2) Food Allergy. Food Reactions. Web. Dec 5, 2012.
http://www.foodreactions.org/allergy/index.html
3) "Milk Allergy and Lactose Intolerance" Steinman, Dr. Harris. Science in Africa. Web. Dec 5, 2012.
http://www.scienceinafrica.co.za/2002/may/milk.htm
4) "Lactose Intolerance in Infants, Children, and Adolescents" Heyman, Melvin B., MD, MPH. American Academy of Pediatrics. Web. Dec 5, 2012.
http://pediatrics.aappublications.org/content/118/3/1279.full.pdf
Reviewed December 5, 2012
by Michele Blacksberg RN
Edited by Jody Smith
Description: A look at the difference between lactose intolerance and a milk allergy in children
Page Title: Lactose Intolerance Affects 2% to 5% of Infants Aged 1 to 3 months