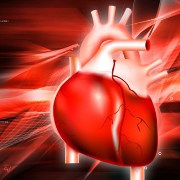 Photo: Getty Images
In a recent study conducted by Dr. Hsu-Ko Kuo and Dr. Ken Fujise from the University of Texas Medical Branch in Galveston, showed that women infected with HPV were at higher risk for heart attacks and strokes.
The study included close to 2,500 women between age 20 and 59. Vaginal swabs for HPV testing were obtained and patients were questioned as to whether they had ever had a heart attack or stroke. Almost fifty percent (47 percent) of the women tested positive for HPV.
The types of HPV involved were evenly distributed between low and high risk types. The high risk types of HPV are known to be the main cause for cervical and other cancers.
Of the 60 women who reported a history of heart disease, 39 also tested positive for HPV, and 21 with no HPV. It was determined that women infected with HPV were more than twice as likely to indicate they had a heart attack or stroke. Researchers also took into account other factors such as smoking, drinking and high blood pressure, other risks for heart related issues.
Upon further investigation it was shown that only those high risk strains responsible for cancer were connected to the increased cardiovascular risk. Since the women were swabbed and tested for HPV only one time, the researchers could not distinguish between those women with chronic versus short term infections.
According to Dr. Fujise who is the Director of Cardiology at the University of Texas at Galveston, the HPV vaccine may also be useful in preventing heart disease.
Since this is the first time the connection between HPV and heart disease or stroke has been undertaken, women of cautioned not to overreact as more research will be needed to correlate these findings.
Sources:
Pittman, Genevra. "Report links HPV with heart attacks, strokes| Reuters." Business & Financial News, Breaking US & International News | Reuters.com. N.p., n.d. Web. 21 Dec. 2011.
http://www.reuters.com/article/2011/10/26/us-hpv-idUSTRE79P7LE20111026
"HPV may raise women's risk of heart disease - Health - Women's health - msnbc.com." msnbc.com - Breaking news, science and tech news, world news, US news, local news- msnbc.com. N.p., n.d. Web. 21 Dec. 2011. http://www.msnbc.msn.com/id/45023589/ns/health-womens_health/t/hpv-may-raise-womens-risk-heart-disease
Reviewed December 21, 2011
by Michele Blacksberg RN
Edited by Jody Smith