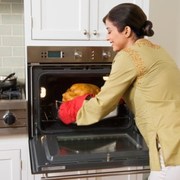 Creatas Images/Thinkstock
Nothing says Merry Christmas like a nicely roasted turkey. But you'll find that nothing says food poisoning and misery like one that isn't cooked or stored safely.
This year, I had a sudden change in plans when I realized I had miscalculated thawing time for the turkey I intended to cook for Christmas Eve.
No matter how many times I did the math I was faced with the fact that it was prime for cooking on Saturday, and would be past its prime by Monday.
Not something to play dice with.
So we had a turkey dinner on Saturday night instead and made new plans for Christmas Eve. Better to change plans than to take a chance with everybody's health and wellbeing.
I did some research online that helped me make the necessary decisions.
The CDC talks about turkey safety on their website. Here's some of what I found there.
Thawing a frozen turkey should be done in the refrigerator, in cold water or in a microwave.
The USDA website cautions that you keep the turkey in its original packaging, and set it in a pan or a tray for any leaking juices. Once thawed it can stay in the refrigerator for up to two days.
If you want to use cold water to thaw your bird, you don't want the water to get through the packaging. Submerge the turkey in its original wrapping, and change water every half hour. Get it ready for the oven as soon as it's thawed.
If you thaw the turkey in your microwave, refer to your owner's manual as to how many minutes and what power level is required. Take the turkey out of its wrapping and put it on a microwave-safe dish. Cook it right away.
Cover the turkey with a lid to your roaster or with heavy-duty aluminum foil for up to the first hour and a half. You can cook it with or without a covering for the rest of the time, depending on how it's browning.
When you are getting your turkey ready to cook take special care with work surfaces and utensils.
Wash your hands every time you need to touch anything, after touching the raw turkey. Make sure to wash your work surfaces, containers and utensils before you use them in any other food preparation.
Make sure your turkey is completely thawed before you put it in the oven.Cook it at no less than 325 degrees F. It should go breast side up on a rack in a roasting pan.
Check the internal temperature at the inner part of the thigh and wing, and at the thickest part of the breast. A food thermometer should read at least 165 degrees F before you take the turkey out of the oven.
Before you carve it, let your turkey sit for 20 minutes after you remove it from the oven.
How do you determine how big a turkey to buy?
Figure on a pound per person for fresh or frozen.
Don't buy a frozen pre-stuffed turkey, unless it bears a USDA or State mark of inspection. Otherwise, you are just begging to be sick as bacteria does its thing.
This kind of turkey should be cooked from frozen. You'll want one and one-quarter pound of turkey per person.
To store your leftovers, put them in the refrigerator within two hours. If the room temperature is over 90 degrees F, they should be stored within an hour. They'll be safe to eat for three or four days. You can freeze leftovers for up to six months.
Follow these tips, and your holiday meal will leave you with happy memories.
Sources:
It's Turkey Time: Safely Prepare Your Holiday Meal. CDC.gov. Retrieved Dec. 23, 2012.
http://www.cdc.gov/features/turkeytime
Let's Talk Turkey -- A Consumer Guide to Safely Roasting a Turkey. USDA.gov. Food Safety and Inspection Service. Retrieved Dec. 23, 2012.
http://www.fsis.usda.gov/FACTSheets/Lets_Talk_Turkey/index.asp
Visit Jody's website and blog at http://www.ncubator.ca and http://ncubator.ca/blogger
Reviewed December 23, 2012
by Michele Blacksberg RN