Moms: Are You Brave Enough For These Healthy Activities With Your Kids?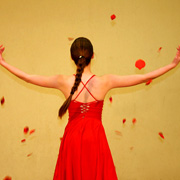 By
amson00
July 13, 2018 - 9:30am
When you've got adventurous kids, you need to come up with exciting ways for them to expend their energy through exercise. You can only go for so many hikes and walks before they're bored.
If it were up to the kids, they'd be happy running through the woods, diving into rivers, and chasing after frogs. Since those activities need to be supervised, it only works when you're the kind of person who enjoys those activities, too.
If diving off a 50-foot cliff into a river isn't your idea of fun, here are some less terrifying adventures you can enjoy with your energetic kids:
1. Go to a trampoline park
Your kids will never look at a backyard trampoline the same after spending a few hours at a trampoline park. You won't, either! The trampolines are gigantic, and curved trampolines line the walls. Some trampoline parks have Velcro walls. By wearing a special suit, you can launch yourself at the wall and stick to it.
Most play places, including trampoline parks, don't allow parents to get on the equipment with their kids because they're not built for adults. They'll let you into the play area but you have to sit in tiny, plastic chairs. Some parks are different, and because they're built with stronger equipment in larger spaces, parents are encouraged to join their kids on the trampolines. Some even offer Wi-Fi and adult-sized chairs.
Trampoline parks are a safe way to experience family fun and adventure at the same time. You don't have to perform any moves you're not comfortable with. You can let the little ones do the backflips and stick to vertical jumps.
2. Visit a waterpark
Nothing says summer more than waterslides. They don't seem too exciting from the ground, but when you start going down, the water pushes you through twists and turns effortlessly and it almost feels like you're flying.
Most water parks have at least one water slide that allows you to dive into it head first. Adventurous kids love the thrill and uncertainty of doing things differently, and water slides give them that opportunity.
If you're brave enough, take a vacation in another country to find more interesting slides. Water slides like Leap of Faith, for example, gives you that free fall feeling and drop you right into a shark tank.
"You can't be that kid standing at the top of the water slide, overthinking it. Youhave to go down the chute." – Tina Fey
3. Take them rock climbing (indoors)
You never know what adventures your kids will cling to – pun intended. If you've never gone indoor rock climbing, you and your kids are in for a treat.
Rock climbing is an adventure that develops confidence, strength, balance, and coordination. There are multiple types of walls designed for different skill levels. Some simulate mountain surfaces better than others and require experience to master.
You don't need to hit the mountain for this adventure. Climbing walls can be found in numerous places including schools, gyms, and fairs. Some parents install climbing walls inside their home.
While most climbing walls are builtindoors, many exist in outdoor settings in nature. Climbing walls are the safest way to experience rock climbing because you're always suspended in a harness and rappels are controlled.
4. Try out new sports
Ever tried kickboxing? Athletes on TV make it look easy,but it's a serious workout, especially for your core. Kids like to keep their arms and legs moving, and kickboxing is a good way to structure those wild impulses. They may not learn the coordination necessary to win against their opponent the first time in the ring, but the rush will make them want more.
If you're among the 48.3% of adults who don't get enough physical exercise, kickboxing may give you a reason to get active.
Exercising core muscles is important for kids because that's where most of a person's strength originates. A strong core isn't just about having visible abdominal muscles; it's about working the lower back as well. Kickboxing definitely accomplishes that goal.
If you're brave enough to get in the ring and spar, your kids will have fun watching you, too.