Marriage.. it's on the table, but it's not....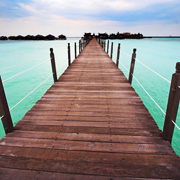 By
jacisim
January 21, 2012 - 8:30am
I've been in this relationship for 4 years. Between us we have 5 kids... He had 3 and I had one and together we have 1...
The talk of marriage has come up, more so recently.. He says, "oh yeah, I want to marry you, I don't want a big wedding".. What's a big wedding I say... He just wants us.. I want the kids to be there to which he agreed. I want my parents and my sisters and brothers to come.. he started to get put out by this.. he said "ok".. He has just one brother and his mother. His father passed away. And he has one set of grandparents. I have 4 sisters adn 3 brothers. My dad, and step-mother. I also have 3 very dear to me friends who have been there through thick and thin with me. He doesn't want them or any of his friends invited... His first wedding consisted of him, his bride and their parents.. not even their friends or siblings.
So fast forward to last night. During a "date night" out dinner the wedding talk comes up. I said why won't you compromise. I just want my friends there.. It's not like you're paying for it all yourself. He scoffed and said "oooook".. then it's going to go from a few friends to 100 people. and if you invite them then I don't want to get married to you! I said I'll just leave he said go. I said I was fine before. More scoffing. He said you were "ok".. you were NOT fine. You were struggling. I wanted to burst out crying right there on the spot.. How could he throw my financial struggles in my face because he has helped me??
Now I am not sure I want to go through with this marriage or this relationship....