My list of 10 good things about menopause - What's your list?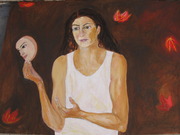 By
gaiamouse
March 22, 2011 - 5:28am
Ten good things about menopause are:
1. It gives me an excuse to sit around reading books all day, without doing another thing.
2. I learned how supportive my husband could be.
3. It gives me something taboo to talk about with other people, and really get some good stories.
4. I finally figure out what my older sister was talking about.
5. It gives me an excuse to be forgetful.
6. I've become invisible to passerbys - no one gives me a turn of the head, or a second thought any more - I can observe them without them noticing. I can walk along the street without interruptions by guys coming on to me.
7. My grey hair looks beautiful.
8. I am old enough now that I see the innocent child in everybody.
9. I have enough experience to nurture both adults and children in a healthy way.
10. After the ravages of mood changes during menopause, a door opens and selfhood and peace are discovered.