Menopause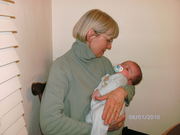 By
Susan Peachey
August 3, 2010 - 9:33am
I entered menopause at 47 years of age and was finished in one year. (same as my mother) Never took any hormones for hot flashes, although I didn't experience the typical flushing of the neck and face. My entire body from collar bone to thighs got hot and lasted up to an hour. It was not unbearable, just hot. I periodically have night sweats that, upon standing, I find myself standing in a large puddle of water. (once yearly) The most helpful resource I found was a book entitled, "Menopause and the Mind" The Complete Guide to Coping with the Cognitive Effects of Perimenopause and Menopause, Including Memory Loss, Foggy Thinking, and Verbal Slips, written by Claire L. Warga, Ph.D. Copyright 1999 Touchstone Book
In her books she admits to being a member of the school of thought that menopause was all in a woman's head, until she began collecting data from female patients.
This book helped me embrace and make peace with the changes that my body was creating. I chose to look on the bright side. The five or six trips up and down the stairs it took to remember what it was that I was looking for became my new "Menopausal Exercise Program." I might forget where I left my car keys which is a big inconvenience, but I also forgot why I was annoyed with my husband, which was pleasing to us both. I lost my sense of direction, but not my sense of humor. I sing prettier than ever, but still can't draw worth a plug nickel. Because my memory is limited, my world view has diminished to my neighborhood, which allows me to see the relational results of caring right before my eyes.
For me personally, menopause "ain't that bad." It's my new scapegoat. Any issue in my life is now blamed on "estrogen loss."
Final note, "Menopause is God's way of insuring that I will never have another baby because I am too cranky for any man to ever come near me again, and His promise that the kids I do have will definitely leave home."