Workout buddies - yay or nay?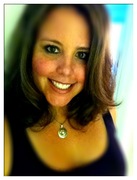 By
Swimrunner08
August 1, 2011 - 4:06pm
Yes, yes - I know that true motivation comes from within, that YOU and only YOU have to decide to take responsibility of your health and wellness, but sometimes having someone there to encourage you, push you, and get you over those inevitable plateaus is invaluable. Also - the accountability is not so bad either :)
To be honest, there are certain workouts I like to do alone. I find running is a solo activity for me. However - cross-training and calisthenics are two activities that I definitely prefer to have a buddy with me!
However, the benefits of having a workout partner are definitely appealing.
- increased motivation
- more support
- a little competitive and pushing yourself a little more than you might do solo
- some workouts can even be a little more social
- less intimidating to try new things is someone is there with you
I really like the "hybrid version" of workout partners. A co-worker of mine, used a google doc to track our training runs for an upcoming race. Even though we were at completely different paces - we could train "together" and use our training schedule online to track our progress, keep each other motivated, and hold each other accountable.
What are your thoughts around having a workout partner? Do you have one?