A Healthy Thanksgiving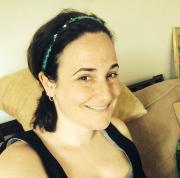 By
cbegun
Blogger
November 18, 2013 - 11:55am
Thanksgiving is always about the time spent together with loved ones and also sitting down to have a meal. However, the holiday doesn't have to be about us gorging ourselves on food or making tons of recipes when sometimes just a few basics are really all that is needed to have a healthy and not so "feeling stuffed" meal.
Instead of going crazy and making loads of recipes filled with high fat contents and unnecessary carbs, what about just having a main course, either turkey or vegetarian option, along with a robust and colorful salad with dressing, sweet potatoes and warm vegetables?
I know that this may sound crazy but after trying this over the years I have had family members saying thank you for not overdoing it and making the choices manageable so that they too don't overeat.
With a menu like this, that is somewhat scaled back, we are less likely to be unbuttoning our pants at the table for extra breathing room.
If you are hosting the holiday and feel you need to have lots of food choices for your guests, another option to consider is set up the meal as a buffet. When sitting at the table talking with loved ones you don't have to have the extra food in front of you picking at it while you are having conversation.
What have you done for Thanksgiving to help make it healthy?