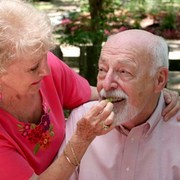 iStockphoto/Thinkstock
Lately, I have been learning about more and more people suffering from gout. My father suffered from gout, someone I dated suffered from gout, a Hawaiian friend's uncle suffers from the disease and a New York Times food critic suffers from gout.
Ironically all four are men. These four men, according to the American College of Rheumatology, are among the more than three million people in the United States who suffer with gout.
All of these men have one thing in common. They all devoured food rich in purines.
But ladies, be warned that gout also affects women especially after menopause and those with kidney disease. Children on the other hand, are rarely affected by gout.
Research has shown that gout may run in the family. Also, gout is linked to diabetes, hyperlipidemia, hypertension and obesity. More importantly gout can mimic other conditions.
According to the American College of Rheumatology, here are some important things to remember about living with gout:
• People with chronic gout often require lifetime treatment with drugs to lower uric acid levels.
• Lifestyle changes such as controlling weight, limiting alcohol consumption, and limiting meals with meats and fish rich in purines can help control gout.
• Episodic arthritis is a typical indicator of gout.
• Identifying the characteristic crystals in the fluid in joints allows health care providers to make an accurate diagnosis.
• There are two types of treatment for gout:
- Medications to control the attacks of joint pain, such as NSAIDs, colchicine and corticosteroids
- Medications used after attacks have resolved that can lower the level of uric acid in the body over time so the attacks occur less frequently or not at all.
Here are some additional tips by the American College of Rheumatology to remember about gout:
• Drinking alcohol should be reduced or stopped.
• Diets that restrict foods rich in the purines found in meat and certain types of seafood, fatty meals, or high‐fructose beverages may help.
• Purines in vegetables appear to be safe, and low‐fat dairy products may actually help lower uric acid levels.
The American College of Rheumatology website stated, "In almost all cases, it is possible to successfully treat gout so that the patient experiences a gradual end to attacks, and decreases in the number and size of tophi [crystals deposits]."
Also, the U.S. National Library of Medicine stated that with medication, "The pain often goes away within 12 hours of starting treatment, and is completely relieved in 48 hours."
When you suffer from gout you have to make a food lifestyle change. For more information about the types of foods to avoid go to the following link: https://www.empowher.com/gout/content/gout-diet/
References:
Gout - PubMed Health. National Center for Biotechnology Information. Retrieved May 30, 2012, from http://www.ncbi.nlm.nih.gov/pubmedhealth/PMH0001459/
Schumacher, H. R. Gout. American College of Rheumatology. Retrieved May 30, 2012, from http://www.rheumatology.org/practice/clinical/patients/diseases_and_conditions/gout.asp
Reviewed May 30, 2012
by Michele Blacksberg RN
Tags: