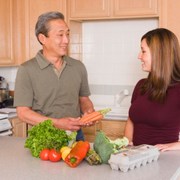 Jupiterimages/Creatas/Thinkstock
When my dad was alive he suffered from gout. This man loved his anchovies, red meat and other shell fish.
These foods, high in purine, caused his gout which is a painful form of arthritis. While my father did not drink, it is vital to remember that grain alcohol, wine and beer are also high in purine and may trigger gout.
According to the Gout and Uric Acid Education Society, ʺ40 percent of Americans don't know that gout is one of the most painful forms of arthritis.ʺ
Also, the Society stated, ʺone out of four people with gout have a family history of it.ʺ
The Gout and Uric Acid Education Society website stated the following can trigger gout:
• Consuming large quantities of purine-rich foods, especially red meat, organ meat and shellfish
• A diet high in fructose, including soft drinks and fruit juices
• Crash diets, especially high-protein fad diets
• Regular, excessive alcohol intake, especially beer or binge drinking
• Starting a uric acid-lowering treatment medicine (even though it may be the correct long-term therapy)
• Radiation therapy
• Surgery or a sudden, severe illness for which you are bedridden
Gout is manageable with diet and medications. If you suffer from gout, it is critical to eliminate foods high in purine.
High purine foods are generally high protein foods which metabolize into uric acid. In turn, the high amounts of uric acid in your body cause painful gout.
According to the Arthritis Foundation, foods low in purine include the following:
• Fruits
• Vegetables (only ONE daily serving of peas, cauliflower, lentils, beans, mushrooms, spinach, asparagus)
• Eggs and milk
• Vegetable soups (clear broth)
• Nuts
• Refined cereals and cereal products
• Spices and condiments, including salt and vinegar
• Sugar and sweets (in moderation)
• Butter and fats (in moderation)
The Arthritis Foundation's website listed these foods and drinks to avoid if you have gout:
• Beer
• Grain alcohol
• Wine
• Drinks high in fructose (canned drinks and juices)
• Sweetbreads
• Liver
• Kidneys
• Heart
• Brains
• Fish roe/eggs
• Herring
• Shrimp
• Lobster
• Anchovies
• Sardines
• Mussels
• Broths and gravies
Finally, it is recommended by the Arthritis Foundation to only have one serving of the following if you have gout:
• Meats
• Yeast
• Whole grain cereal
• Fowl (chicken or duck)
• Fish (except fish roe/eggs, herring, shrimp, lobster, anchovies, sardines, mussels)
References:
Gout Diet. The Gout and Uric Acid Education Society. Retrieved April 22, 2012, from
http://gouteducation.org/patient/living-with-gout/diet
Gout Triggers, Risk Factors & Effects of Beer and other Alcohol. The Gout and Uric Acid Education Society. Retrieved April 22, 2012, from http://gouteducation.org/patient/what-is-gout/gout-triggers
Purine Gout | Gout Diet | Gout Foods | Arthritis Today Magazine. Arthritis | Arthritis Today Magazine | Arthritis Foundation. Retrieved April 22, 2012, from http://www.arthritistoday.org/conditions/gout/healthy-living/food-purine-content.php
What is Gout? The Gout and Uric Acid Education Society. Retrieved April 22, 2012, from
http://gouteducation.org/patient/what-is-gout
Reviewed April 23, 2012
by Michele Blacksberg RN
Edited by Jody Smith