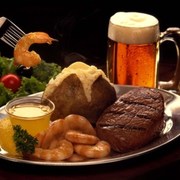 Jupiterimages/Comstock/Thinkstock
A Boston University study "confirms eating a lot of meat and other high-purine foods makes gout flares five times more likely." The new research was recently published online in Annals of the Rheumatic Diseases.
The research revealed "that for people with gout, eating a lot of purine-rich foods – like red meat, organ meat, certain fish and vegetables – over a short period of time can increase the risk of a gout attack almost fivefold compared to their risk when eating fewer purine-rich foods."
Purines are generally found in food from animal sources, protein-rich foods and some fish (like sardines and anchovies).
But, also be aware some vegetables also contain purines. These include:
• Spinach
• Mushrooms
• Beans
• Peas
• Asparagus
• Cauliflower
The Boston University School of Medicine, conducted the study which "is the first to formally test the hypothesis, show[ing] a direct association between purine intake and gout attacks, and quantify[ing] the risk."
According to Arthritis Today Magazine, "The authors conclude that ingestion of purine-rich foods can actually trigger a gout attack within days – and that the risk rises as more purines are included in the diet."
Over a one-year period, the study tracked more than 630 participants with a history of gout. Each participant must have had an episode with gout "within the previous 12 months."
More than "two-thirds of the participants experienced at least one new gout attack, resulting in 1,247 flare episodes. Those experiencing a flare were questioned about their diet in the two days leading up to the attack."
The data results indicated there was a direct correlation between gout attacks and purines ingested.
If you have gout your doctor may want you to avoid the following foods and drinks according to the Arthritis Foundation's website:
• Beer
• Grain alcohol
• Wine
• Drinks high in fructose (canned drinks and juices)
• Sweetbreads
• Liver
• Kidneys
• Heart
• Brains
• Fish roe/eggs
• Herring
• Shrimp
• Lobster
• Anchovies
• Sardines
• Mussels
• Broths and gravies
Also, the Arthritis Foundation's website recommends only have one serving of the items listed below a day if you have gout:
• Meats
• Yeast
• Whole grain cereal
• Fowl (chicken or duck)
• Seafood (except fish roe/eggs, herring, shrimp, lobster, anchovies, sardines, mussels)
• Spinach
• Mushrooms
• Beans
• Peas
• Asparagus
• Cauliflower
Living with gout is manageable. As research shows, your diet plays a vital role in managing your gout.
References:
Gout Attack | Purine Rich Foods | Arthritis Today Magazine. Arthritis | Arthritis Today Magazine | Arthritis Foundation. Retrieved June 11, 2012, from http://www.arthritistoday.org/news/purine-foods-gout-attack198.php
Purine Gout | Gout Diet | Gout Foods | Arthritis Today Magazine. Arthritis | Arthritis Today Magazine | Arthritis Foundation. Retrieved June 11, 2012, from http://www.arthritistoday.org/conditions/gout/healthy-living/food-purine-content.php
Reviewed June 11, 2012
by Michele Blacksberg RN
Edited by Jody Smith
Tags: