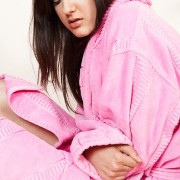 Photo: Getty Images
Gastroenteritis is inflammation of the lining of the intestines caused by viruses, bacteria, or parasites. According to the Medline Plus web site, gastroenteritis is not really a type of flu because it's not caused by the influenza virus, but the term stomach flu is widely used. Symptoms include diarrhea, vomiting, abdominal pain, headache, fever, and chills.
Viral gastroenteritis is very common in the United States, second only to influenza. The bacterial and parasite varieties are less common.
The Centers for Disease Control and Prevention (CDC) provides more information on viral gastroenteritis. The cause includes many different viruses, including rotavirus, norovirus, adenovirus, sapovirus, and astrovirus types. These pathogens are spread through close contact with infected persons, and from eating or drinking contaminated food or beverages.
Sewage contamination of drinking water or fishing waters is a risk. Eating raw or undercooked shellfish can transmit the disease. Poor hand hygiene by infected persons may also lead to disease transmission.
Symptoms begin one to two days after contact, and continue for 1 to 10 days. Most people recover completely, but the disease can be serious for young children, elderly people, and disabled people who are unable to care for themselves.
The main risk is dehydration from loss of fluids through vomiting and diarrhea. Oral rehydration solution is available over the counter at pharmacies. There are no drugs available to treat viral gastroenteritis. Prevention by good hygiene is our main defense.
Hand-wipes are widely available to aid in hand hygiene. Syed A. Sattar and colleagues at the University of Ottawa, in Ontario, Canada investigated the use of ethanol-based products on noroviruses. "Human noroviruses (HuNoV) remain the most common cause of acute viral gastroenteritis (AVG) with 6 million clinical cases and 200,000 deaths/year worldwide," they reported.
Outbreaks of norovirus gastroenteritis are common on cruise ships, in health care settings, and in the general community. Development of effective hygiene products is limited by the fact that HuNoV does not grow well in laboratory cultures. Sattar and colleagues developed a mouse model of the virus and tested different formulations of hand cleaning solutions.
The mouse model performed better than the previously used feline model, Sattar reported. In addition, a commercial ethanol-based solution for handwipes performed better than solutions containing higher concentrations of ethanol. Sattar encouraged further use of ethanol-based hand cleaning products to reduce the spread of gastroenteritis.
References:
1. Medline Plus. Gastroenteritis. Web. Oct. 21, 2011.
http://www.nlm.nih.gov/medlineplus/gastroenteritis.html
2. Centers for Disease Control and Prevention. Gastroenteritis. Web. Oct. 21, 2011.
http://www.cdc.gov/ncidod/dvrd/revb/gastro/faq.htm
3. Sattar SA et al, "In vivo comparison of two human norovirus surrogates for testing ethanol-based handrubs: the mouse chasing the cat!" PLoS One 2011; 6(2): e17340.
http://www.ncbi.nlm.nih.gov/pubmed/21390325
Linda Fugate is a scientist and writer in Austin, Texas. She has a Ph.D. in Physics and an M.S. in Macromolecular Science and Engineering. Her background includes academic and industrial research in materials science. She currently writes song lyrics and health articles.
Reviewed November 3, 2011
by Michele Blacksberg RN
Edited by Jody Smith
Tags: