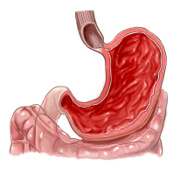 Let's say a recent physical exam at your doctor's office has left you in a cloud of confusion because she has pronounced that you have gastritis. What is gastritis? you ask yourself, and what are all these other medical terms that are being tossed around?
Take a look at this quick glossary of gastritis-related terms, and see if they help lift that cloud.
Mucosa -- The lining of your stomach is called the mucosa, and it harbors acids and enzymes that are crucial to breaking down food for digestion. Also present is mucus, which protects the stomach lining from acids. If the mucosa becomes inflamed, though, it interferes with the production of acids, enzymes and mucus.
Acute gastritis -- An abnormal inflammation of the stomach lining, or mucosa, is called gastritis. When it produces sudden and severe pain in the upper abdomen, that's acute gastritis.
Chronic gastritis -- Inflammation of the mucosa that sticks around is called chronic gastritis, and if it is not treated, it can lead to much more serious conditions.
Erosive gastritis -- Say that the inflammation of your stomach lining is not causing much pain, but it is wearing away the mucosa, leading to erosions or ulcers. The ulcers can bleed, giving you blood in the stool or vomit. Erosive gastritis might be acute or chronic, and the culprits range from prolonged use of non-steroidal anti-inflammatory drugs (NSAIDS) to radiation to drug and alcohol abuse.
Antral gastritis -- Sometimes the whole stomach is affected by mucosa inflammation and sometimes it's just a section, such as the antrum, where stomach contents are released into the intestine. When gastritis is confined to this section, it's classified as antral gastritis.
Helicobacter pylori (H. pylori) -- This is the name for the insidious bacteria that are often behind cases of chronic non-erosive gastritis. The National Digestive Diseases Information Clearinghouse said that in industrialized countries like the United States, as much as 50 percent of the population could be infected with H. pylori, which is primarily spread through person-to-person contact.
Atrophic gastritis -- Sometimes an outcome of chronic H. pylori gastritis, atrophic gastritis means that the cells in the stomach lining that are needed for digestive acids and enzymes are being destroyed at such a pace that there is concern about possible gastric cancer and gastric mucosa-associated lymphoid tissue (MALT) lymphoma.
Stress gastritis -- The name denotes acute erosive gastritis caused by traumatic injuries, critical illness, severe burns or major surgery.
These are some of the major terms associated with gastritis. According to the NDDIC, patients who report pain or discomfort in the upper abdomen are often mistakenly given a diagnosis of gastritis. In fact, that pain or discomfort could be a number of things, including heartburn or dyspepsia. Many people with a true diagnosis of gastritis actually have no symptoms, said the NDDIC.
That's why your doctor might need to conduct certain tests -- such as endoscopy, an upper gastrointestinal series, blood test or stool test -- to nail down a diagnosis. If it's gastritis, you might be at risk for peptic ulcer disease and benign or malignant gastric tumors.
Sources:
"Gastritis." National Digestive Diseases Information Clearinghouse. Web. 2 Nov. 2011.
http://digestive.niddk.nih.gov/ddiseases/pubs/gastritis/index.aspx
"Acute Gastritis." Medscape Reference. Web. 2 Nov. 2011. http://emedicine.medscape.com/article/175909-overview
Reviewed November 3, 2011
by Michele Blacksberg RN
Edited by Jody Smith
Tags: