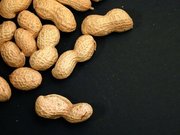 The peanut company at the heart of the nationwide salmonella outbreak has now recalled all products made at its Georgia and Texas production plants
In a statement posted on the website of the U.S. Food and Drug Administration, Peanut Corp., of Lynchburg, Va., said all customers should "not distribute or further use" any food products received from its now-closed Blakely, Ga., and Plainview, Texas, production facilities.
The recall notice expands greatly the company's voluntary actions last month, which covered peanut butter and peanut paste products processed since Jan. 1, 2007.
More than 2,100 products in 17 categories have so far been recalled by more than 200 companies, according to the FDA's website. The breadth of the recall -- covering everything from cookies, candies and ice cream to snack bars, prepared meals and dog treats -- makes this one of the largest recalls in U.S. history
Meanwhile, the outbreak is continuing. According to the U.S. Centers for Disease Control and Prevention, as of last Thursday, 654 people in 44 states had been sickened by Salmonella Typhimurium, with the most recent reported illness on Feb. 3. There have also been nine deaths in five states linked to the outbreak.
The new statement by Peanut Corp., which declared bankruptcy two weeks ago, also said the company can no longer take action on recalled products and customers should now contact the FDA on all matters related to the recall.
Tags: