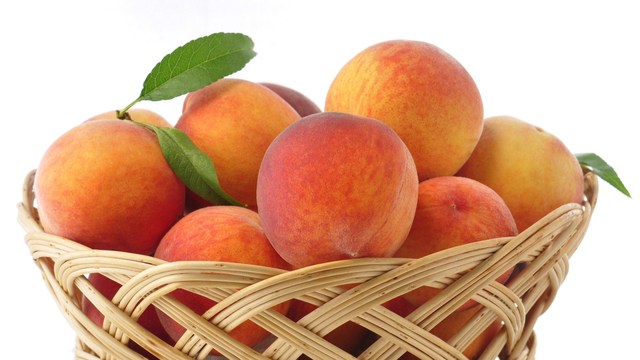 Svetlana Foote/PhotoSpin
In the summertime many of us tend to eat more fruit since so much of it is in season. But all is not rosy in the fruit department. An important recall that needs to be heeded has been issued by some well-known chains.
Costco, Walmart and Trader Joe's have been warned by fruit distributors Wawona Packing Company that their peaches, nectarines, plums and pluots may possibly contain the bacteria Listeria, although no cases have yet to be reported.
These products have been pulled from the shelves and signs have been posted about this issue in stores.
While no reports of finding Listeria on fruit have been made, the bacteria was found on machines that process these fruits for packing. But a preemptive strike was made to avoid any kind of illness, like the Listeria outbreak three years ago that killed 33 people spreading over more than half the country.
Consumers who have purchased any of these fruits in these stores are asked to throw them out.
Listeria causes food poisoning (listeriosis) and can be found in food or on surfaces and machines that process foods. It can even be found in soil, ending up in fruits and vegetables, and in animals so meat products can also carry the bacteria.
According to EmpowHER's Listeria page, "an estimated 2,500 persons become seriously ill with listeriosis each year. Of these, 500 die. At increased risk are:
■ "Pregnant women - about 20 times more likely than other healthy adults to get listeriosis (About one-third of listeriosis cases happen during pregnancy)"
■ "Newborns - suffer the serious effects of infection in pregnancy"
■ "Persons with weakened immune systems"
■ "Persons with cancer, diabetes, or kidney disease"
■ "Persons with AIDS - almost 300 times more likely to get listeriosis than people with normal immune systems"
■ "Persons who take glucocorticosteroid medications"
■ "The elderly"
Symptoms often include fever, headaches, gastric and bowel discomfort, and confusion. Many cases can go undetected since symptoms can resemble a very bad flu.
If pregnant women have any of these symptoms, they should report them quickly and seek medical attention. Listeria can infect the baby, or cause a stillbirth.
To help avoid contamination, raw meat should be thoroughly cooked to kill any bacteria, fruits and vegetables should be thoroughly washed, and surfaces and food preparation tools should be cleaned frequently with clean cloths or antibacterial kitchen wipes.
The information on lots, codes and photos are here on the FDA website.
Consumers can also call Wawona at 888-232-9912 or go to their website for more information.
Sources:
NPR.com. America. "Fruit Recall Hits Trader Joe's, Costco, Wal-Mart Stores". Web. Retrieved July 22nd, 2014.
http://www.npr.org/blogs/thetwo-way/2014/07/22/334111630/fruit-recall-hi...
EmpowHER.com. Infections of the Digestive Tract. Food Poisoning. Listeriosis. Web. Retrieved July 22nd, 2014.
https://www.empowher.com/media/reference/listeriosis
Reviewed July 25, 2014
by Michele Blacksberg RN
Edited by Jody Smith