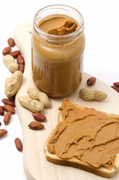 Photo: Getty Images
Peanut allergies can lead to fatal asthma or anaphylactic reactions. Recent surveys indicate that approximately 1 percent of children in the United States, Canada, and Britain are currently afflicted with peanut allergies, and the prevalence seems to be increasing.
I'm in the baby boom generation, and I never heard of peanut allergy when I was a kid. My friends of similar age tell me the same thing. So why is it so common now?
One possibility is improved diagnosis. It could be that children in the 1960's were dying of asthma and anaphylaxis from peanut allergies, but nobody made the connection. Or maybe our diets have changed. A British study reported that low doses of peanuts in early childhood leads to sensitization, while higher doses lead to tolerance. I don't know whether this has changed over the decades. The authors observe, "The nature of the evidence has therefore hindered the development of definitive conclusions."
Another possibility is that our immune systems develop abnormally if we have too clean an environment in childhood. This is the hygiene hypothesis, introduced by British researcher D. P. Strachan in 1989. Allergies and autoimmune disease have been on the rise while infections have been on the decline for many decades. A thought that comes to my mind is the disappearance of measles, mumps, and chicken pox in the population of United States children. When I was a kid, these viral infections were considered a normal part of childhood, as necessary as losing baby teeth. My parents deliberately exposed me to sick children to make sure I got each disease before I was 7 or 8 years old.
Measles vaccines became available in 1963 in the United States. A combined measles, mumps, and rubella vaccine became available in 1971. A chicken pox vaccine was added to the combination in 2005. Flu shots have been gaining in popularity over this time period, as well. I don't think these viruses are anything special, and I don't recommend that you skip the vaccines for your children. However, you may want to be less concerned about your child catching a case of the sniffles from other children.
References:
1. Sicherer SH et al, "US prevalence of self-reported peanut, tree nut, and sesame allergy: 11-year follow-up", J Allergy Clin Immunol. 2010 Jun; 125(6): 1322-26.
2. Ben-shoshan M et al, "A population-based study on peanut, tree nut, fish, shellfish, and sesame allergy prevalence in Canada", J Allergy Clin Immunol. 2010 Jun; 125(6): 1327-35.
3. Venter C et al, "Time trends in the prevalence of peanut allergy: three cohorts of children from the same geographical location in the UK", Allergy. 2010 Jan; 65(1): 103-8.
4. Thompson RL et al, "Peanut sensitisation and allergy: influence of early life exposure to peanuts", Br J Nutr. 2010 May; 103(9): 1278-86.
5. Khodoun M et al, "Peanuts can contribute to anaphylactic shock by activating complement", J Allergy clin Immunol. 2009 Feb; 123(2): 342-51.
6. Vogel NM et al, "Food allergy is associated with potentially fatal childhood asthma", J Asthma. 2008 Dec; 45(10): 862-6.
7. Hygiene hypothesis:
https://www.empowher.com/news/herarticle/2010/01/07/hygiene-hypothesis-how-safe-antibacterial-soap
8. Vaccines:
http://www.vaccineinformation.org/measles/qandavax.asp
Tags: