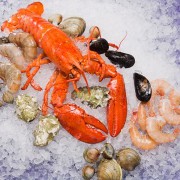 Photo: Getty Images
Food allergies are reactions by the immune system to a particular food or group of foods. Most food allergies are diagnosed in children, and many children outgrow their allergies by the time they become adults. Adults can also develop new food allergies later in life. The foods that adults are allergic to tend to be different from those that cause allergies in children. Here are the most common foods allergies for adults in the United States.
• Shellfish – Shellfish allergies tend to develop later in life, rather than during childhood. Shellfish is the most common food allergy for adults with approximately 2 percent of adults in the U.S. having this condition. Shellfish allergies tend to be severe and last for the rest of your life. Shellfish allergies fall into two groups – crustaceans (lobsters, shrimp, and crawfish) or mollusks (clams, oysters, and mussels). Some people develop an allergy to one group or the other while other people are allergic to both groups.
• Peanuts - This is the second highest allergy among adults with just over one-half of one percent (.06 percent) of people reporting that they have this allergy. Peanut allergy rates appear to be approximately the same among adults as they were 10 years ago. Peanut allergies tend to cause severe reactions and are more likely than other allergies to cause anaphylactic reactions that can stop breathing. Most people with peanut allergies have the allergy for the rest of their lives. People who have peanut allergies are also prone to have tree nut allergies.
• Tree nuts – One-half of one percent (.05 percent) of people report that they are allergic to tree nuts. This number seems to be climbing, especially among adults. Tree nuts tend to cause severe reactions including anaphylactic reactions that can make breathing difficult. Some people are allergic to just one kind of tree nut, such as almonds, while others are allergic to multiple tree nuts as well as peanuts.
• Fish – Just less than one-half of one percent (.04 percent) of U.S. adults are allergic to fish. Some people are allergic to just one kind of fish while others are allergic to multiple species of fish. This type of allergy is more common in adults than in children. Fish that are not fresh can develop high levels of histamine which is an allergy-producing substance. Fish allergies can cause swelling in the throat and mouth that can cause difficulty breathing which can be life threatening.
• Sesame – Although only a very small percentage of adults report an allergy to sesame seeds (.01 percent), some studies show that allergies to sesame and other seeds are increasing in adults. Sesame seeds are available in brown, black, and white and are often used in fast food as a garnish. People who develop sesame allergies tend to have them for the rest of their lives. Symptoms of sesame allergy take many forms and can mimic nasal allergies, oral allergies, and skin allergies. This allergy can also cause anaphylaxis which can interfere with breathing. People who are allergic to sesame seeds are often more prone to peanut allergies and may also react to rye, kiwi, poppy seed, and some tree nuts.
• Fruits and vegetables – Up to 4.3 percent of people report being allergic to some type of fruit or vegetable as an adult. People who have allergic rhinitis or hay fever may be more prone to react to certain fruits or vegetables based on the pollens they are allergic to. For example, people who are allergic to ragweed may also be allergic to foods from the gourd family including watermelon, zucchini, and cucumbers. This reaction is the result of the antibody IgE, which is present in the body from the pollen allergy, not recognizing a difference between that pollen and a fruit or vegetable that has a similar protein structure. This allergy may cause pain in the mouth for a few minutes, or may cause cramps and nausea. In severe cases, it can also cause an anaphylactic reaction that will make breathing difficult.
Sources:
About.com: Top 6 Most Common Food Allergies for Adults
About.com: 8 Most Common Food Allergies
About.com: Sesame Seed Allergy
U.S. News & World Report Health
Tags: