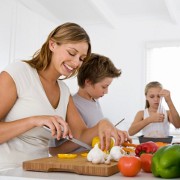 Photo: Getty Images
People who have a food allergy have a physical reaction to a particular food, which is called an allergen. From the outside, it may seem like a relatively simple task to avoid the food that causes the symptoms. For example, if you are allergic to peanuts, just don't eat them. But for some people with allergies, even a tiny amount of the food allergen can be enough to trigger an allergic reaction which can make them stop breathing.
In the world of food allergies, when something other than the food itself comes in contact with the allergen, bits of the allergen are transferred. This is called cross-contamination. It can take place at home, in the grocery store, in a restaurant, or even on the surface of a lunch box sitting beside a contaminated surface.
The safest way to avoid cross-contamination at home is to ban the food that causes the allergic reaction. Depending on your family situation, that might not be possible. If you know there are allergen sources in the house, consider these tips to avoid cross contamination:
• Kitchen – Cross-contamination can occur if foods are cooked in the same pan or stirred with the same spoon. Have special cookware and utensils that are only used to prepare food for the person with food allergies. Countertops, cutting boards, and even the dish cloth or sponge can cause cross-contamination. Use disposable paper towels to clean up after an allergen and be sure all surfaces are completely cleaned.
• Pantry – If you must store foods containing an allergen in the same pantry with "safe" foods, don't store them next to each other. Place "safe" items on a separate shelf. Think about adding "safe" labels such as green stickers to allergen-free foods and red stickers to allergen-containing foods or foods you are not sure about. This can be very effective for children since they will understand the color labels much earlier than they will be able to read the list of ingredients.
• Food Prep – If you are preparing foods with and without allergens, be sure to prepare the allergen-free version first and put it in a safe place before even opening the containers for allergen-containing foods. Train yourself not to cross-contaminate any food containers, even if both are "safe". This will help you remember not to put the knife you used to spread peanut butter into the jar of jelly. And remember, even something like the barbecue grill can be a source of cross-contamination. So be sure to completely clean the grill after cooking an allergen-containing food.
• Hands – Even a tiny bit of an allergen on your hands can contaminate many surfaces in your home. Train everyone in your household to wash their hands with soap and water every time they touch something containing the allergen and every time they eat.
• Make Smart Choices – If you know you will have both safe and not-safe foods in the house, make the best possible choices you can to control the allergen. For example, choose moist breads, not dry or crumbly breads to avoid spreading wheat particles. If you are cooking with oil, plan appropriately to prevent the oil from splattering onto other surfaces and causing cross-contamination that is very difficult to clean up.
The key to keeping your kitchen safe from allergen cross-contamination is to be consistent in where things are stored, how they are used, and how they are cleaned. Building safe habits will help you protect your family from cross-contamination at home.
Sources:
About.com: Avoid Food Allergy Cross-Contamination
Kids with Food Allergies