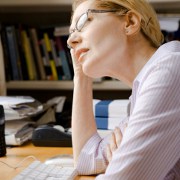 Photo: Getty Images
Everyone knows, whether they deal with it directly or not, that the cost of medical coverage including medications has gone through the roof. For those individuals on Medicare, resulting either from age or disability prescription, medications are not part of the plan. This is a separate policy which must be purchased.
As a result of complications from her medical issues, Mary (an example patient) is now on disability and unable to return to work - she is only 52. She is on a staggering number of medications per month.
Medicare offers an online program whereby the patient will input their medications, dosage, etc. and they will be told if they are covered for the co-pay and estimated annual out-of-pocket cost.
Depending upon one's income, additional assistance towards the patient's premium may also be available from Social Security, referred to as Supplemental Security Income and anyone finding themselves in such a situation should check into this.
In Mary's case, the majority of her medications are not covered by these available plans, but what is worse is that because of that, her annual out-of-pocket costs would be over one hundred and ten thousand -- yes, thousand -- dollars a year.
I know this sounds outrageous, and it is, so I can understand why Mary sees no point in paying for a policy which isn't even going to cover the medications she needs.
Just about every pharmaceutical company provides programs to help assist those having difficulty obtaining their medications, often for free. Obviously there are qualifications which must be met, and one of those is that the patient has no drug coverage -- at all.
The annual income qualification is usually based upon a percentage of the federal poverty limits, which takes into account the number of family members.
While investigating these figures for my small town in Florida I was astonished to find out that one drug company in particular extends their percentage 300 percent beyond the poverty level determined by the federal government.
This new calculation extends the yearly income level to qualify for assistance. The typical percentage range of other companies is around 125 percent of the federal poverty level.
In simple terms, if the federal poverty level for two people is $15000 the maximum allowable income at 125 percent would be $18000. By extending the allowable annual income to 300 percent that figure now becomes $45000, which equals the average annual income for residents in my town.
In other words if you earn the average annual wage where I live, you can receive free medications from them.
There's only one catch for this company, you must join a Medicare drug program and in the case of this particular medication Mary needs, pay a $45 monthly deductible. She already has four medications for which she must pay cash as she cannot receive them anywhere else at a lower cost.
The problem with this is that joining a drug program would disqualify Mary from receiving the other eight medications she has been receiving for free.
It is just such circumstances that only add to the frustration of the disabled, elderly and lower-income families when trying to access the medications they truly require.
It also speaks to the failure of those setting policy for this particular company when it comes to the effect this policy will have for the patient.
Of course Mary cannot afford to lose the medications she currently receives, nor can she do without the one she is currently being denied. These are the times when a greater responsibility in terms of shepherding resources and applying them appropriately to those truly in need is so essential.
Applying for these low-cost/no-cost medications will require the help of your physician when it comes to the paperwork and often it is only the physician's office who can obtain the applications, so speak to your doctor if you are having trouble affording your medications.
No patient should have to go without necessary medications, regardless of their condition, because of financial inability to pay for them. And, with the significant number of responsible companies which exist to assist in that regard, no patient should have to.
Unfortunately, it is companies such as the one mentioned above whose policies are illogical, irresponsible and only function to create more stress and havoc for the patient.
Mary will appeal her denial and hopefully someone there will see the error of their ways and approve her application. She should not have to live in daily pain while this company squanders their resources by providing them to virtually everyone, including those who can afford it.
Sources:
"Prescription Assistance Program | ." Prescription Assistance Program | . N.p., n.d. Web. 30 Jan. 2012.
http://www.pparx.org
"Supplemental Security Income." The United States Social Security Administration. N.p., n.d. Web. 30 Jan. 2012.
http://www.ssa.gov/ssi
"2011 Poverty Guidelines, Federal Register Notice." Office of the Assistant Secretary for Planning and Evaluation, HHS. N.p., n.d. Web. 30 Jan. 2012. http://aspe.hhs.gov/poverty/11fedreg.shtml
Reviewed January 30, 2012
by Michele Blacksberg RN
Edited by Jody Smith