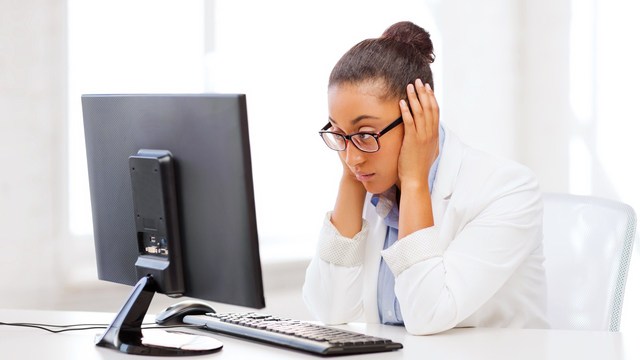 Lev Dolgachov/PhotoSpin
Is chronic dry eye disease the new affliction of this generation? This condition is certainly showing up in more studies and articles, and that's no surprise considering our eyes may be glued to computers and TV screens for many hours a day.
In fact, Prevention magazine just completed a survey of its readers in regards to chronic dry eye and computer use.
The survey was completed online with the help of Allergan, Inc., and included 507 women's responses. It took place on May 21 and 22, 2014.
Survey results showed that 55 percent of women experience one or more dry eye symptoms after using a computer for extended periods of time.
Dry eye symptoms included in the survey are blurry vision, dry eyes, stinging/burning eyes, eye sensitivity to light, gritty or sandy sensations in your eyes, itchy eyes and excessive tearing.
Blurry vision (30.97 percent) and dry eyes (27.81 percent) were the most common symptoms experienced.
The survey also not surprisingly found that an estimated 66 percent of women completely agree that they spend more time on a computer today compared to five years ago.
So women use computers more frequently and also suffer from more dry eye symptoms the more often they use them. However, women who do suffer from symptoms don't seem to use eye drops or artificial tears very often for relief.
The survey results show that only 24 percent of women with dry eyes used drops several times a day. And 42 percent of women with itchy eyes never used drops.
Of those women with symptoms, 53 percent never discussed their dry eye problems with a doctor, even though 77 percent of the total number of women in the survey know what chronic dry eye is.
Dr. Taz Bhatia, founder of Atlanta Center for Holistic and Integrative Medicine and contributor to Prevention magazine, said in an email that she is not surprised by the results because she sees hesitancy in her practice.
"I've seen that women are often willing to put up with discomfort due to Chronic Dry Eye disease and often are hesitant to even try over-the-counter treatments like artificial tears, as they do not recognize that Chronic Dry Eye is a condition that requires medical treatment," Bhatia said.
She added that dry eye tends to be more common in women over 50 years old, since it is also associated with hormonal changes.
"Chronic Dry Eye can also be caused by or associated with growing older, inflammation, other eye or health conditions, and external conditions such as wearing contact lenses or allergies," Bhatia said.
In regards to the survey results, she believes that many women still do not fully recognize the impact dry eye can have when untreated. In some cases it can lead to damage to the surface of the eye, as well as poor vision and a higher risk of eye infection.
Dr. Elizabeth Yeu, a board-certified ophthalmologist, and assistant professor of ophthalmology at Eastern Virginia Medical School said in an email that there is one major problem of chronic dry eye that leads to other symptoms. "Chronic Dry Eye disease can decrease the eye's ability to make and/or maintain sufficient quality and quantity of tears for a healthy tear film."
Here are nine common symptoms that can be felt in the eyes:
1) Dryness
2) Itchiness
3) Stinging
4) Burning
5) Gritty or sandy sensations
6) Sensitivity to light
7) Excessive tearing
8) Blurry vision
9) Difficulty seeing at night
A study published in JAMA Ophthalmology in June also demonstrated that computer use is linked to dry eye and a change in the concentration of Mucin 5AC (MUC5AC) in tears.
Mucin 5AC is a type of mucin, which is a protective substance found in tears, according to Medscape.
The study focused on people who use computers or "visual display terminals," and how longer computer use impacts dry eye and the concentration of mucin.
Researchers found that there is an association between prolonged computer use and low concentrations of Mucin 5AC. People with dry eye disease may also have lower levels of Mucin 5AC.
How often do you use a computer during the day? Do you notice any dry eye symptoms after using a computer for long periods of time? Have you received treatment for dry eyes?
Sources:
American Optometric Association. Computer Vision Syndrome. Web. August 4, 2014.
http://www.aoa.org/patients-and-public/caring-for-your-vision/protecting-your-vision/computer-vision-syndrome?sso=y
American Optometric Association. Dry Eye. Web. August 4, 2014.
http://www.aoa.org/patients-and-public/eye-and-vision-problems/glossary-of-eye-and-vision-conditions/dry-eye?sso=y
Hackethal, Veronica. Medscape. Computer Use Linked to Dry Eye, Change in Tears. Web. August 4, 2014.
http://www.medscape.com/viewarticle/826521
Uchino, Yuichi and Uchino, Miki, et al. JAMA Ophthalmology. Alteration of Tear Mucin 5AC in Office Workers Using Visual Display Terminals. Web. August 4, 2014.
http://archopht.jamanetwork.com/article.aspx?articleid=1878735
Prevention magazine dry eye survey:
http://www.mydryeyes.com/Prevention
Yeu, Elizabeth. Email interview. July 31, 2014.
Bhatia, Taz. Email interview. July 31, 2014.
Reviewed August 5, 2014
by Michele Blacksberg RN
Edited by Jody Smith