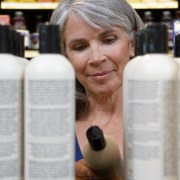 Photo: Getty Images
Eczema, otherwise known as dermatitis, is an annoying skin condition characterized by dry, scaling, itchy, flaking skin that can ooze and bleed depending on the amount you scratch it. Many people experience eczema as a child only to have it return at some point in adulthood. The patches of affected skin can occur anywhere on the body, including your hands, ears, face, scalp, trunk, arms, or legs. It might appear to "spread" all over then recede without warning or cause. Take heart, besides slathering yourself with corticosteroid creams, there are some safe natural therapies you can begin just in time for summer clothes.
First, if you haven't already done this it's time to read labels of your skin care, hair care and cleaning products. Switch out to the natural stuff and get rid of the chemicals. What you apply to your hair and skin should not contain: parabens, sulfates, synthetic fragrances, synthetic dye, petrochemicals, phthalates, GMOs, triclosan, or sodium-lauryl/laureth-sulfate. Cleaning supplies and air fresheners are full of chemicals that your skin does not need.
Second, time to look at your diet as research shows inflammation in your gastrointestinal tract can erupt on your skin. Common causes of food allergies and food intolerances include (but are not limited to): wheat/gluten, dairy, soy, corn, eggs, nuts, and coffee. Does this mean you should eliminate everything and see? Maybe. You might want to ask your health care provider for food intolerance testing or eliminate the top two offenders (wheat and dairy) for four weeks and see how you do. Then move down the line. I know several people who flare with dairy or corn. Others are worse with coffee.
Third, speaking of diet, it's time to get the sugar out. I mean all of it! Sugar is a major inflammatory food and your skin is already inflamed so don't make it worse. Cut out the actual white and brown sugar in desserts and snacks and then start reading labels on your box of granola bars, cereal, bottles of coffee drinks, and containers of yogurt. You will be surprised by what you see. Aim to go completely sugar-free for 30 days in the name of health and watch the results. You might even lose weight as a side bonus.
Fourth, start supplementing with healthy skin support. Research shows that omega 3 fatty acids have a lot of benefit for the skin but it must be a good quality fish oil (if it smells like bad fish, toss it) and you need about 3,000mg per day. Alternatives include evening primrose oil and borage oil.
Fifth, vitamin D is also of benefit for eczema. Have your levels tested and for optimal purposes make sure you are between 50-80ng/ml. Vitamin D is a fat soluble vitamin therefore it needs fat to absorb or buy a gel cap.
Sixth, take a good quality probiotic (these are the good gut bugs in your intestines) which will help keep things balanced and regular in your GI tract and help lower inflammation. Make sure you get one that is dairy free.
Seventh, apply herbs and vitamins right to the skin. Consider buying natural vitamin E oil and applying it twice per day or pop open the borage oil capsule and do the same. Use creams made with soothing herbs such as calendula, chamomile and/or sea buckthorn. Be careful of products with tea tree oil as it might sting.
Eighth, eczema oftentimes runs with allergies and/or asthma. Make sure you have good filters on your heating and cooling unit of your house, that you run a good air purifier in your bedroom, and vacuum up the animal and dust mites often.
Ninth, look at your stress. Eczema, and its buddies allergies and asthma, are often made worse by stressful situations or a stressful life. Start taking time for you, set boundaries and be clear about what you need. It is your health, after all.
Lastly, make sure it's really eczema. It might be psoriasis or a fungal infection in which case the treatment varies slightly.
References:
1. Atkins D, et al. Food allergy: diagnosis and management. Primary Care 35 (1): 119–40.
2. Reuter J, Merfort I, Schempp C. Botanicals in Dermatology: An Evidence-based ReviewAm J Clin Dermatol. 2010;11(4):247-267
http://www.ncbi.nlm.nih.gov/pubmed/20509719
Reviewed June, 1 2011
Edited by Alison Stanton