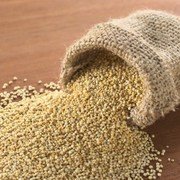 iStockphoto/Thinkstock
I am obsessed with one-pot meals. They are the perfect answer for every busy family. As a die hard devotee of quinoa, I was yet to find any one pot wonders with this wonder seed — until now.
This quinoa mushroom chicken rice pilaf dish couldn't be more balanced or more delicious. Double the recipe and have dinner for your family all week long.
1 tablespoon olive oil
1/2 onion, diced
3 cloves garlic, diced
1/2 cup mushrooms, cleaned and thinly sliced

1/2 teaspoon thyme
1/2 teaspoon oregano
3 cups stock (vegetable or chicken)
3/4 cup chicken, precooked and shredded
Salt and pepper to taste
Heat a medium sized saucepan over high heat. Once hot, add in olive oil and let warm. Once oil is hot, drop in onion and let brown but not burn. Add in garlic and mushrooms. Cook until brown.
Add in quinoa and spices. Let roast for a few minutes until fragrant. Add in stock and bring to a boil.
Reduce heat to a simmer and add in chicken. Cover and let steam for about 15 minutes or until quinoa is fully cooked and liquid has evaporated. Remove lid and let stand for 10 minutes.
Fluff and serve warm with a fresh green salad for a balanced and healthy dinner.
Edited by Jody Smith