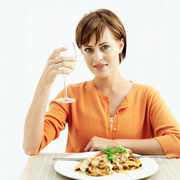 Photo: Getty Images
My best friend growing up was Italian. One of my favorite parts of our friendship was her mother's amazing and oh-so authentic cooking.
One of her signature dishes was homemade lasagna. Meaty, cheesy, and able to cure all of life's problems.
As much as I'd love a big hunk of Italy today, it's not so good for my ever-expanding tummy.
This no-carb version substitutes zucchini for pasta and always turns out delicious.
2 large zucchinis, sliced 1/4 inch thick lengthwise

1 tablespoon olive oil
1 small onion, diced
3 cloves garlic, diced
2 tomatoes, roughly chopped
1 small can tomato paste
1/2 bunch fresh basil, roughly chopped
½ teaspoon dried oregano
¼ teaspoon dried thyme
¼ cup water
1 egg
¾ cup reduced fat cottage cheese
½ cup mozzarella cheese, shredded
Parmesan cheese to garnish
Salt and pepper to taste
Preheat oven to 375 degrees F.
Bring a pot of water to a boil, once bubbling, add in zucchini and let cook until soft but not mushy, about 4 minutes.
Rinse with cold water and set on a paper towel to dry.
Heat olive oil in a large skillet, once glistening add in meat, garlic, onion, tomato paste, chopped tomatoes, and spices. Sauté over medium-high until brown, about 8 minutes.
Reduce heat to a simmer and let simmer uncovered for about 10 minutes until water evaporates.
In a small bowl, beat eggs and cheeses. In your favorite lasagna pan, place a layer of the meat mixture, a layer of zucchini, and a layer of the cheese mixture. Repeat for two to three layers.
Bake for 30 minutes.
Sprinkle with Parmesan cheese and bake for an additional 10 minutes.
Let stand for 10 minutes before eating. Enjoy warm!
Edited by Jody Smith