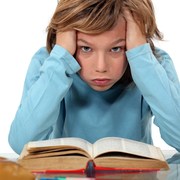 Auremar/PhotoSpin
Most Americans are aware that hunger and poverty are large problems in this country.
But many do not know that it is not only the homeless on street corners that do not have enough to eat. It is also the family next door, the woman at work, and the people at church.
All these people are in constant flux, not being able to consistently eat nutritious meals. In fact, 50 million people in the United States, including 1 in 4 children and 1 in six 6 adults, do not know where they will get their next meal.
A new film, A Place at the Table , examines this problem called food insecurity, which happens when one does not knowing where their next meal is coming from.
The film tells the story of food insecurity in the United States by using the real stories of three everyday Americans who have to worry constantly about how to feed themselves and their families.
The people featured in the film look no different from those most people see at work, in the neighborhood, or in their kids' schools. But they suffer from a lack of food.
The directors/producers of this film, Kristi Jacobson and Lori Silverbush, wanted to explore the idea that hunger and food insecurity can actually be a deep threat to the country as a whole.
They also tried to provide hope that this issue can be solved by the American public and community organizations working together to make sure healthy food is available and affordable to all.
The film stresses the fact that eliminating food insecurity is in the best interest of everyone, not just the poor.
A Place at the Table opened nationwide in theaters on March 1, 2013 but people can also see it in on ITunes and OnDemand.
In addition to the powerful film, a social action campaign launched as well which will bring together a collation of expert non-governmental organizations, foundations and corporations to create the first national action center to bring an end to food insecurity. The national action center offers specific actions anyone can take on both a local and national level to end hunger.
The problem of food insecurity can be solved by Americans putting pressure on local, state, and national representatives for more funding for anti-hunger safety net programs.
Every single person can help individually too. Volunteer at a soup kitchen.
Give canned goods to a food pantry. Tell friends about a school's breakfast program.
Everyday Americans can help make sure that food is no longer a luxury for some in the richest country in the world.
Sources:
Takepart.com. Web. 6 March 2013. "Place at the Table."
http://www.takepart.com/place-at-the-table/film
Takepart.com. Web. Published February 28, 2013. "Three simple ways to end hunger in America".
http://www.takepart.com/article/2013/02/28/action-week-take-your-place-table
Reviewed March 7 2013
by Michele Blacksberg RN
Edited by Jody Smith