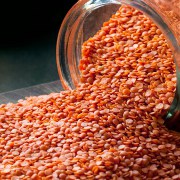 Photo: Getty Images
In my never-ending mission to eat less meat, I've started adding lentils into my weekly dinner rotation. My number one favorite way to prepare lentils is as a traditional Indian masoor, a recipe I grew up eating.
Rich in protein, packed with fiber, and always filling, next time you're looking for a healthy, meat-free dinner, try this recipe to keep your belly satisfied and slim.
Traditional Indian Masoor
2 cups masoor dal (red lentils)
1-1/2 teaspoons turmeric

2 tablespoons oil
2 onions, diced
5 cloves garlic, chopped finely
1 (1-inch piece) ginger root, chopped finely
2 jalapeno chiles, chopped (Remove seeds to lessen the spice level)
1 bunch coriander, chopped
2 tomatoes, chopped
Salt to taste
Rinse lentils carefully, until water runs clear. In a large pot, boil 4 cups of water and add in lentils. Reduce heat and let simmer for about 10-15 minutes until the lentils are about halfway cooked. Add in garam masala, turmeric and salt. Once soft, turn off the heat.
In a separate pan, heat oil until very hot. Add in onions and cook until tender. Sauté in garlic, ginger and chiles, cook until onions are almost brown but not burnt. Add tomatoes and cilantro and cook for another five minutes. Pour into the lentil pot and reheat to let the flavors blend. Add salt to taste and garnish with fresh cilantro.
Serve masoor over brown rice or with whole wheat pita bread. Pair it with a fresh green salad for a balanced, healthy, and meat-free meal.
Edited by Jody Smith