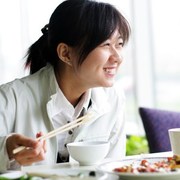 iStockphoto/Thinkstock
Delicious, universal, and packed with calories, Chinese food can be one of the unhealthiest choices when dining out. Lean proteins and veggies are often doused with sodium, saturated fat and sugar, leaving it difficult to decipher what's healthy and what's not.
When eating at a Chinese restaurant follow the well-known eating out rules and limit your portions, choose water over soda, and avoid anything fried. Stick with veggie-centered dishes, hold the sauce, and keep your eye on your salt consumption.
Oh, and don't forget to use your chopsticks for a built-in portion controller. If you're still wondering how to make a Chinese meal healthy, follow our go-to guide of what to order and what to avoid.
Avoid This: A popular Chinese delicacy, walnut shrimp is battered, fried, and tossed in a mix of mayonnaise and condensed milk. It's then topped with glazed walnuts for an extra few hundred calories.
Order This: Opt for shrimp with garlic sauce with extra veggies and less oil. Keep an eye out for stirfried shrimp dishes that are loaded with veggies.
Avoid This: As tasty as they might be, egg rolls are deep fried and overflowing with sodium. Plus, they usually are accompanied by a sugar (and calorie) filled sauce.
Order This: Steamed dumplings are a delicious and oil-free option on nearly every Chinese menu. Keep a special eye out for a variety of steamed dumplings when dining out for dim sum.
Avoid This: Steer clear from starting your meal with extra orders of appetizers. Pot stickers, spare ribs, and items labeled "crispy" are all deep-fried and calorie-packed.
Order This: A known remedy for curbing your appetite and filling your belly, soup is a great healthy option when enjoying Chinese food. Look for hot and sour, or wonton soup for a lower calorie start to your meal.
Avoid This: A Chinese classic, sweet and sour dishes are generally batter-fried and doused in a sugary sauce. Don't let the token bell peppers fool you, these dishes are weight watcher saboteurs.
Order This: Choose teriyaki chicken paired with broccoli instead.
Avoid This: Fried rice is generally doused in butter or oil and packed with sodium.
Order This: Instead of adding extra unwanted calories with an order of fried rice, go for a healthy order of fiber-packed brown rice instead.
Edited by Jody Smith