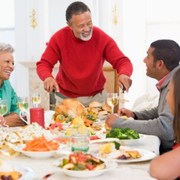 Photo: Getty Images
According to the U.S. Census, Americans come from more than 125 countries around the world.
One of the many advantages of coming from another country is the integration of a new culture into our current traditions. For years, immigrants to the new world have incorporated their foods and spices into our current holiday recipes. For example, Grandma's secret gravy recipe may have the base ingredients of a traditional holiday recipe, but Granny may have incorporated her own spices or foods from the old country.
A perfect example of the integration of culture into holiday recipes is the beautiful state of Hawaii.
In Hawaii, the Thanksgiving meal is always potluck. On Turkey Day, you will see local Hawaiians (also known as kamaʻāinas, pronounced ka-ma-EYE-nas) gathered at a beach mid-day. At the Hawaiian Turkey Day celebration, you will see foods and holiday recipes from Portugal, China, Japan, Korea, Philippines and even Mexico.
One of my favorite holiday recipes is stuffing with Portuguese sausage. This stuffing recipe gives this holiday recipe a special kick. Here is the link for Portuguese sausage stuffing recipe: http://www.npr.org/2011/11/14/142305954/thanksgiving-from-americas-melting-pot.
Traditional Thanksgiving holiday recipes generally include turkey, cranberries, sweet potatoes and pumpkin pie.
The average holiday turkey weighs 15 pounds. In the south, they tend to deep fry their turkeys versus baking the turkey in the oven.
According to the National Turkey Federation the average American consumed 16.4 pounds of turkey in 2010. The Federation's website also revealed these factoids about turkey:
• In 1970, 50 percent of all turkey was gobbled up during the holidays
• Today, more than 31 percent will eat turkey during the holidays
• Since 1970, turkey consumption has increased 102 percent
Every now and then, we may need a break from slaving away in the kitchen preparing our favorite our holiday recipes. This year, The National Restaurant Association estimates more than 14 million Americans will visit a restaurant for a Thanksgiving meal. An additional 16 million will use takeout to supplement their holiday meals.
Here are some additional factoids provided by the National Restaurant Association:
• 55 percent of American adults say they plan to eat a meal at their own home this Turkey Day.
• 46 percent say they plan to eat a meal at someone else's home.
• 6 percent plan to dine at a restaurant.
• 3 percent don't plan to have a special meal.
• 1 in 10 plan to have more than one Turkey Day dinner.
What is your favorite holiday recipe? Do you or your family have any special holiday recipes or traditions?
Also, for those you filling out your Christmas cards and if you have an extra one, please send a holiday card to one of our brave soldiers recovering from war:
A Recovering American Soldier
c/o Walter Reed Army Medical Center
6900 Georgia Avenue, NW
Washington, DC 20307-5001
If we pass this on and everyone sends one card, think of how many cards these wonderful, special people who have sacrificed so much, will receive this holiday season.
References:
Health and Wellness - Well Blog - NYTimes.com. Health and Wellness - Well Blog - NYTimes.com. Retrieved November 20, 2011, from http://well.blogs.nytimes.com
Kitchen Window: Thanksgiving From America's Melting Pot : NPR. NPR : National Public Radio : News & Analysis, World, US, Music & Arts : NPR. Retrieved November 20, 2011, from http://www.npr.org/2011/11/14/142305954/thanksgiving-from-americas-melting-pot
News Release | National Restaurant Association . Home Page | National Restaurant Association | National Restaurant Association . Retrieved November 20, 2011, from http://www.restaurant.org/pressroom/pressrelease/?id=2191
Thanksgiving Recipes. All Holiday Recipes - Recipes for Christmas, Thanksgiving, Halloween, Easter and all other Holidays. Retrieved November 20, 2011, from http://www.allholidayrecipes.com/thanksgiving
Turkey recipes, turkey preparation tips, low carb recipes, high protein food, heart healthy recipes, thanksgiving recipes, high protein diet at eatturkey.com. Welcome. Retrieved November 20, 2011, from http://www.eatturkey.com/consumer/stats/stats.html
Edited by Jody Smith