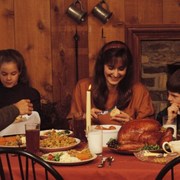 Photo: Getty Images
According to the American Farm Bureau Federation (AFBF), the average cost of this year's holiday food for Thankgiving is $49.20 dollars. This is an increase of 13 percent from last year. The food cost survey is based on a holiday food menu of turkey, stuffing, cranberries, pumpkin pie and the basic trimmings.
The AFBF stated in a press release that the average cost of this year's holiday food for ten is $49.20 dollars which is a $5.73 price increase from last year's average of $43.47 dollars.
"The cost of this year's meal remains a bargain, at just under $5 per person," said AFBF President Bob Stallman, a rice and cattle producer from Texas.
Also, the Huffington Post recently published the top eight classic holiday foods. Those foods for the holiday include:
• Fruitcake
• Glazed ham
• Sweet potato marshmallow casserole
• Thanksgiving turkey
• Cranberry sauce
• Eggnog
• Green bean casserole
• Turducken
As a kid, I always had a fascination with holiday food and holiday traditions. I loved Turkey Day invitations to friends' houses to see how they celebrated Thanksgiving.
Also, I wanted to know why my family's cranberry sauce came in the shape of a can and why fruitcake was so popular. Even today, every fruitcake I've tried could easily be used as a spare tire on my car.
And I have yet to meet anyone who has served turducken at their holiday meal. Is turducken being served at your holiday feast this year?
Holiday food can cause some trouble for those who are watching their weight. Between Turkey Day and New Year's, the average person will consume an additional 600 calories per day of holiday food. This means you will start the 2012 with an extra six pounds on your body frame.
According to Men's Health Magazine, here are some of the best and worst holiday foods to eat this holiday season:
Best Holiday Food
• Hot chocolate
• Shrimp cocktail
• Champagne
• Melon balls wrapped in prosciutto
• Roasted red potatoes
• Beef tenderloin
• Chocolate fondue
• Sam Adam's Holiday Porter beer
Worst Holiday Food
• Eggnog
• Crab cakes
• Gin & Tonic
• Hot spinach artichoke dip
• Baked potato with butter and sour cream
• Prime rib
• Pecan pie a la mode
• Sam Adams light beer
If you feel like giving back this holiday season consider volunteering or donating canned holiday food. VolunteerMatch.org makes it easy for anyone to volunteer. Their website has over 72,000 volunteer listings across the country and overseas.
Go to the following link www.volunteermatch.org, type in your zip code and key word (Thanksgiving, holiday food, etc.) for a volunteer opportunity near you.
References:
Classic Thanksgiving Dinner Costing More in 2011 - The Voice of Agriculture - American Farm Bureau. The Voice of Agriculture - American Farm Bureau. Retrieved November 21, 2011, from
http://www.fb.org/index.php?action=newsroom.news&year=2011&file=nr1110.html
The Best and Worst Holiday Foods | Eat This, Not That. Eat This, Not That. The No-Diet Weight Loss Solution. Retrieved November 21, 2011, from http://eatthis.menshealth.com/slideshow/best-and-worst-holiday-foods
This Thanksgiving, VolunteerMatch.org Helps Millions Give Thanks by Giving Back as Volunteers. Press Release Distribution - Submit Press Releases Online - PRWeb. Retrieved November 21, 2011, from http://www.prweb.com/releases/2011/11/prweb8978869.htm
Zagat: 8 Classic Holiday Foods: Love 'Em Or Hate 'Em?. Breaking News and Opinion on The Huffington Post. Retrieved November 21, 2011, from http://www.huffingtonpost.com/zagat/classic-holiday-foods_b_1100040.html#s488058&title=Fruitcake
Reviewed November 22, 2011
by Michele Blacksberg RN
Edited by Jody Smith