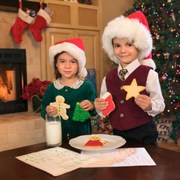 Photo: Getty Images
Everyone, including Santa Claus, likes holiday cookies. We drink milk with them, we dunk them in our coffee and we make them with love and good cheer. There is even a blue monster named after the cookie. A cookie can even put a smile on a crying child's face.
Also, cookies have wonderful names in other countries. I love how Australians, Kiwis (New Zealanders) and the English call cookies "biscuits." Koekje (which means small or little cake) is the Dutch version of cookie.
And, of course my Italian friends have different names for cookies like biscotti or amaretti. Galletas is the name for cookies in Spain. In German, cookies equates to Plätzchen for Christmas cookies or just keks.
According to WhatscookingAmerica.net, ʺculinary historians [believe] the first historic record of cookies was their use as test cakes. A small amount of cake batter was baked to test the oven temperature.ʺ
Cookies come in all shapes, sizes and flavors. During the holidays cookies can be made from ginger, chocolate, fruit, and even candy canes.
During the holidays, baking these delicious treats are a fantastic way to spend some quality family time together. For example, my sister-in-law gathers up her four kids and they bake a plethora of cookies together.
Her mega-cookie session allows the kids to use their creativity to decorate the cookies, make decisions about what cookies to make and give as gifts, and perfect their motor skills by measuring and stirring ingredients.
Another one of my friends has a cookie exchange every year. She hosts a party at her house and everyone makes two batches of cookies. One batch is for everyone to enjoy at the party and the other batch is a parting gift to those who baked cookies. The cookie exchange allows everyone to share family holiday cookie recipes and their holiday traditions.
This holiday season, Betty Crocker is offering 24 days of their famous Christmas cookie recipes. Starting December 1, you can receive emails with holiday cookie recipes. http://links.emails.generalmills.com/servlet/SignUpForm?f=288538.
Also, HealthyEating's website offers five recipes of holiday cookies which are all under 100 calories.
http://www.eatingwell.com/blogs/food_blog/festive_delectable_holiday_cookies_shhh_they_re_only_100_calories
And for those of you with advanced culinary skills, the grande dame of baking, Martha Stewart has her holiday cookie assortment recipes available online. The following are just a sample of the more than 60 holiday cookie recipes available at
http://www.marthastewart.com/274912/holiday-cookie-assortment/@center/276951/christmas-cookies#/296264
• Mini Peppermint-Meringue Cups With Ganache
• Gingerbread Trees with Lemon Icing
• Almond and Apricot Thumbprint Cookies
• Chocolate Pistachio Cookies
What is your favorite holiday cookie recipe?
References:
History of Christmas Cookies. Christmas. Retrieved November 23, 2011, from http://www.christmascarnivals.com/christmas-history/history-christmas-cookies.html
History of Cookies, Cookie History, All about the history of cookies. What's Cooking America, Thanksgiving Dinner Planning, Prime Rib Roast Dinner, Thanksgiving Turkey Dinner, Ham Dinner, Southwest Thanksgiving Dinner. Retrieved November 23, 2011, from http://whatscookingamerica.net/History/CookieHistory.htm
Edited by Jody Smith