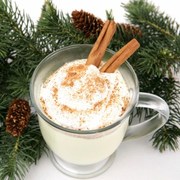 Photo: Getty Images
Holidays are a time of indulgence. From cookies shaped like trees to Aunt Ida's famous bread pudding, the opportunities for excess are endless.
One of the most dangerous dieting hazards is the holiday cocktail. Laced with sugar, spice, and everything nice, these boozy treats are packed with calorie counts that rival those of Grandma's famous apple pie (and that's with whipped cream!)
A single serving of eggnog can have up to 350 calories. (And let's be honest, who stops at just one glass?)
Since nobody wants to feel deprived during the season of jolliness, this revamped recipe slashes the calorie count on this holiday classic by 250 percent to just 100 calories per serving.
Now that's a reason to celebrate. Cheers!
What You Need:
6 cups reduced fat milk
1 cup egg whites or egg substitute
1/2 cup powdered milk
6 tablespoons sugar
1 tablespoon vanilla extract
1 tablespoon rum extract
Ground nutmeg and cinnamon to garnish
Sugar-free whipped cream (optional)
What to Do:
In a medium pot, whisk together skim milk, egg substitute, powdered milk, and sugar over medium heat. Continue to cook and stir until thick, about 15 minutes. Remove from heat and let cool.
Gently stir in extracts and refrigerate at least two hours until you are ready to serve. Re-stir and serve with a sprinkle of nutmeg and cinnamon and add a drop of whipped cream. This recipe serves six one-cup servings.
Edited by Jody Smith