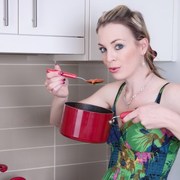 iStockphoto/Thinkstock
A hot addition to many of 2012's trendy health food lists, black lentils are a nutritious food that should be added to every healthy eater's diet. They're packed with fiber, protein, and calcium to keep your heart and bones strong.
Dal makhani is a popular Indian method to prepare black lentils. Usually packed with ghee (clarified butter) and heavy cream, it's not necessarily a healthy choice.
This revamped recipe maintains all the flavor of traditional dal makhani without all the fat. Cook a big pot on Sunday evening and enjoy it all week long.
1/2 cup black lentils
1/2 cup kidney beans
1 cup low fat milk
1/2 teaspoon cumin
1 large onion, finely sliced
1 tablespoon ginger-garlic paste
1 teaspoon red chilli powder
1/4 teaspoon turmeric powder
1 tablespoon coriander powder
1 can diced tomato
Salt and pepper to taste
Rinse lentils and beans until water runs clear. Soak them both overnight.
The following day, drain and combine with salt and three cups of water. Bring to a boil and reduce heat.
Let simmer until lentils are soft, about 1 hour. Once soft, add milk, stir and let simmer for an additional 15 minutes.
In a separate pan, heat 1 tablespoon of oil and add cumin seeds. Let simmer until they start to smell, about 30 seconds.
Add in onion and let cook until browned. Do not let burn.
Add in remaining spices and tomato and about 1/2 cup of water.
Add to lentil mixture and let cook for 15 minutes.
Garnish with freshly chopped cilantro and serve warm with a green salad and whole wheat naan.
Edited by Jody Smith