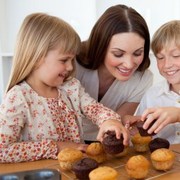 Photo: Getty Images
Every morning for the past week I've run out of the house with nothing more than a granola bar or glass of juice for breakfast. By mid-morning I'm famished and I end up snacking on whatever I can find (which is usually not a healthy option).
Instead of having another repeat of last week, I'm planning ahead this weekend and making these healthy and deliciously savory breakfast muffins on Sunday to keep my first meal of the day on track all week long.
Veggie-Packed Savory Breakfast Muffins
3 cups whole-wheat flour
1 tablespoon baking powder
1/2 teaspoon baking soda
2 eggs (or 4 egg whites)
1 1/2 cups skim milk
3 tablespoons olive oil
2 tablespoons butter, melted
4 cloves garlic, finely diced
1 bunch green onions, diced
3/4 cup Canadian bacon, chopped (optional)
1/2 cup low-fat cheddar cheese, grated
1/4 cup red bell pepper, diced
1/4 cup zucchini, diced
1/4 cup mushrooms, diced
1/2 teaspoon cayenne pepper
Salt and pepper to taste
Preheat oven to 400 degrees F.
Mix flour with baking powder, baking soda and dry spices in a large bowl.
In a separate bowl, whisk eggs, milk, butter and olive oil.
Once well-mixed, stir in veggies and Canadian bacon (if using).
Combine the wet and dry ingredients with a wooden spoon until blended.
Scoop the batter into the muffin pan, pre-sprayed with cooking spray.
Bake for 20 to 22 minutes, until muffins are golden brown on top. Let cool.
Enjoy at room temperature or microwave for 15 seconds for a quick and healthy breakfast.
Edited by Jessica Obert