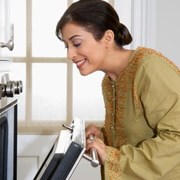 Photo: Getty Images
The most wonderful time of the year is also the most hectic time of the year. When you're running around buying gifts for everyone from your children's teacher to the mailman, eating healthy can be the last thing on your mind.
Combine that with a houseful of demanding in-laws and second cousins, making time to cook just ain't that easy. This breakfast casserole is the perfect healthy start to the holidays. Make ahead of time and reheat to keep all your house-guests happy, merry, and bright -- and keep you healthy -- all season long.
Healthy Breakfast Country Casserole
What You Need:
1/2 cup red bell pepper, diced
1/2 cup onion, chopped
3 cloves garlic, finely diced
4 eggs
1 cup low fat milk
3/4 cup shredded cheddar cheese
1/4 cup grated Parmesan cheese
4 slices whole wheat bread, cut into 1-inch pieces
1 teaspoon olive oil
4 slices turkey bacon, cooked and diced
Salt and pepper to taste
What to Do:
1. Heat oil in a large skillet and sauté bell pepper, garlic, and onion in heated until tender, about five minutes.
2. Beat eggs with milk, cheeses, and season with salt and pepper. Stir cooked veggies into egg mixture.
3. Coat a casserole dish with cooking spray. Layer bread pieces evenly in dish and pour egg mixture. Sprinkle with bacon and drizzle extra cheese on top.
4. Bake at 350°F for 30 minutes or until cheese is bubbling and a knife insterted comes out clean. Serve hot.
Edited by Jody Smith