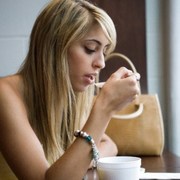 Photo: Getty Images
'Tis season to be indulgent. From office holiday parties to friends-giving festivities, the month of December is a death trap for your diet.
Take control of the butter-covered chaos by ensuring your meals at home are healthy and detoxifying. Make a pot of one of these two delicious and oh-so healthy detox soups to keep you healthy all season long.
Green Detox Soup, Take One
1 large onion, diced
6 sticks celery, sliced with leaves
1 large head of broccoli, washed and broken into florets

1 green bell pepper, roughly chopped
3 cups vegetable stock
1 cup water
Juice of one lemon
4 cloves garlic, diced teaspoons
1 teaspoon red chili powder
Salt and pepper to taste
Heat a large soup pot with drizzle of olive oil over medium heat. Once warmed, stir in garlic and onion. Sautee until fragrant but not caramelized, about 2 minutes. Add in celery, broccoli, zucchini, and bell pepper, stirring continuously.
Sauté over a low flame for 10 minutes, until veggies are soft but still the same color. Add in stock, water, lemon juice and spices. Let simmer for 30 minutes.
Use an immersion blender or food processor to puree until smooth adding water until you reach your desired consistency. Taste and adjust seasoning as necessary.
This easy detox soup can be thin or thick, depending upon the amount of water you add. It cooks up fast. We served ours with a modest scoop of hot cooked jasmine rice in the middle. Super good.
Green Detox Soup, Take Two
3 cloves of garlic, chopped
2 tablespoons diced onion
2 inches of ginger, peeled and chopped
2 heads of fresh broccoli, cut up
1/2 pound of fresh spinach leaves
3 parsnips, peeled, cored, chopped
2 ribs of celery, trimmed, chopped
A handful of fresh parsley, roughly chopped
Olive oil
Fresh water, as needed
Salt and pepper, to taste
Juice of one lemon
In a large soup pot, heat about 1 tablespoon olive oil over medium heat. Once hot, add in garlic, onion, and ginger and stir until fragrant.
Stir in remaining vegetables and sauté for about 5 minutes. Add enough water to cover the vegetables. Bring to a boil, cover and reduce heat to a simmer.
Cook for about 15 minutes and blend with an immersion blender or in food processor. Season with salt, pepper, and lemon juice.
Edited by Jody Smith