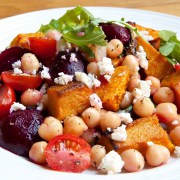 Photo: Getty Images
Hearty, fiber-filled, and oh-so delicious, chickpeas (also known as garbanzo beans) are one of the most underutilized beans. Not only will they keep your belly filled, they also help to regulate digestion and promote weight loss. Try prepping garbanzos in one of these five classic methods to add a new level of healthiness and deliciousness to your meals. Next time you're at the grocery store, grab a can and add some adventure to your kitchen.
Salad-ified: Chickpeas add a nutty heartiness to a boring plate of greens. For a belly-filling midday meal toss chickpeas with cooked lentils, Swiss chard, olive oil, onion, garlic, salt, chickpeas and lemon juice.
Blended: Hummus is perhaps the most-loved way to enjoy chickpeas for a reason. A classic Mediterranean way to enjoy your garbanzos, hummus is creamy, satiating, and a perfect party food. Make a healthier version at home by blending chickpeas with olive oil, salt, garlic and cumin.
Souped Up: Make your favorite soup recipe even more satisfying by throwing in a can of chickpeas. Add them to a chunky tomato and make it extra chunky or mix in with white beans, to white bean and kale soup for a fiber-filled take on a classic.
Crisped: Ok, well not exactly potato chips, but crispy oven-baked chickpeas will satisfy your Doritos-tooth without sabotaging your diet. Toss a drained and dried can of chickpeas with your favorite spice blend and some olive oil and bake 'em in the oven at 350 degrees for about 30 minutes for a tasty and healthy treat.
Sautéed: Sauté onions with chickpeas, Swiss chard, diced tomatoes and season with salt, pepper, and olive oil for a hearty side dish.
Edited by Jody Smith