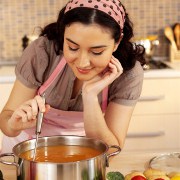 Photo: Getty Images
There's nothing more satisfying than a bowl of homemade soup on a cold fall evening. Rich in phytonutrients and antioxidants, butternut squash is a quintessential fall flavor. It's also low in fat and packed with fiber.
If that weren't enough, this beautiful gourd provides significant amounts of potassium, vitamins B6, vitamin C and folate. Its orange shade gives butternut squash its signature benefit — heart-disease fighting carotenoids and cancer deterring betacarotene.
This simple classic recipe is the perfect thing to make on a Sunday evening to ensure you stay healthy and warm all fall long.
What You'll Need:
1 tablespoon olive oil
1 large butternut squash, peeled, seeded and cut into chunks
1 onion, cut into chunks
1 head garlic, cloves separated and peeled
2-inch piece of ginger, peeled and coarsely chopped
4 cups stock
Salt and pepper
What to Do:
1. Preheat oven to 400°F. Toss squash, onion, ginger and garlic cloves with 1 tablespoon olive oil and sprinkle with salt. Bake for one hour.
2. Once squash is soft and slightly charred, place in a large soup pot or Dutch oven with stock and bring to a boil.
3. Reduce to a simmer and blend until smooth with immersion blender or remove and puree.
4. Add salt and pepper to taste. Garnish with a dollop of Greek yogurt, toasted pumpkin seeds, or parsley. 

Serves around 8 cups of soup.
Edited by Malu Banuelos