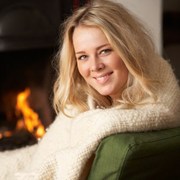 iStockphoto/Thinkstock
I live in San Francisco, a city where one day it's swimsuit and flip flop weather and the next day it's pea coat and boots weather. The bi-polar weather of my city makes it tough to call one dish quintessentially summer or quintessentially winter.
This weekend (when it was over 80 degrees outside) I had a craving for one of my favorite warm weather foods, three bean salad. Two days later, as I got ready to make my three bean salad, I sat in my apartment wrapped in a blanket with the heater on.
Instead of obeying the seasonal food gods, I chose to make my favorite warm weather salad and enjoy it on a cold day. Healthy, protein- and fiber-packed, there are few foods as balanced and nutritious as a three-bean salad.
Three Bean Salad Recipe
1 can garbanzo beans
1 can black-eyed peas
1 can kidney beans
3 celery stalks, diced
2 tomatoes, chopped
1 small red onion, diced
1 cup flat-leaf parsley, finely chopped
1/2 teaspoon dried basil
1/2 teaspoon dried oregano
1 teaspoon garlic, minced
1/2 cup apple cider vinegar
1/3 cup granulated sugar (or four packets of Splenda)
1/4 cup olive oil
Salt and pepper to taste
1. In a large bowl, gently toss together the beans, celery, tomatoes, onion, parsley, basil, and oregano.
2. In a separate bowl, whisk together vinegar, sugar, olive oil, salt, and pepper.
3. Combine the dressing and the beans, toss well.
3 Refrigerate for several hours before enjoying. Can be stored and eaten for up to seven days.
Edited by Jody Smith