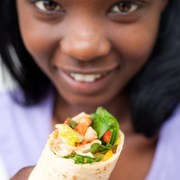 Wavebreak Media/Thinkstock
A staple of busy cooks, store-bought rotisserie chicken is a quick, easy, and healthy shortcut to hundreds of your favorite meals. Next time you find yourself in a culinary bind, pick up a chicken and choose one of our seven favorite recipes to feed your body good.
1. Chicken Pasta: Boil up some whole-wheat noodles, steam some veggies, toss in the chicken, and top with your favorite jarred pasta sauce for a weeknight staple.
2. Chicken and Apple Quesadillas: A favorite of busy moms, pan roast a whole wheat tortilla with low-fat cheese, sliced apple, and chicken for a balanced after-school snack.
3. Chicken Chili: Rework a classic and make it lighter by using shredded chicken in your favorite chili recipe instead of ground beef.
4. Cobb Salad: A dining out favorite, toss chunks of chicken with romaine lettuce, bacon, avocado, tomatoes, and hard-boiled eggs for this classic salad.
5. BBQ Chicken Pizza: Grab your favorite whole wheat pizza crust (or use a pita instead) and top it with bbq sauce, shredded chicken, low-fat cheese and veggies.
6. Chicken Caesar Wraps: Take your favorite salad for a wrap by using lavash bread to wrap chicken, romaine lettuce, and low-fat Caesar dressing for an easy lunch.
7. Chicken Lettuce Wraps: A favorite of low-carb lovers, wrap chicken with veggies and top with your favorite Asian-inspired sauces for a healthy snack.