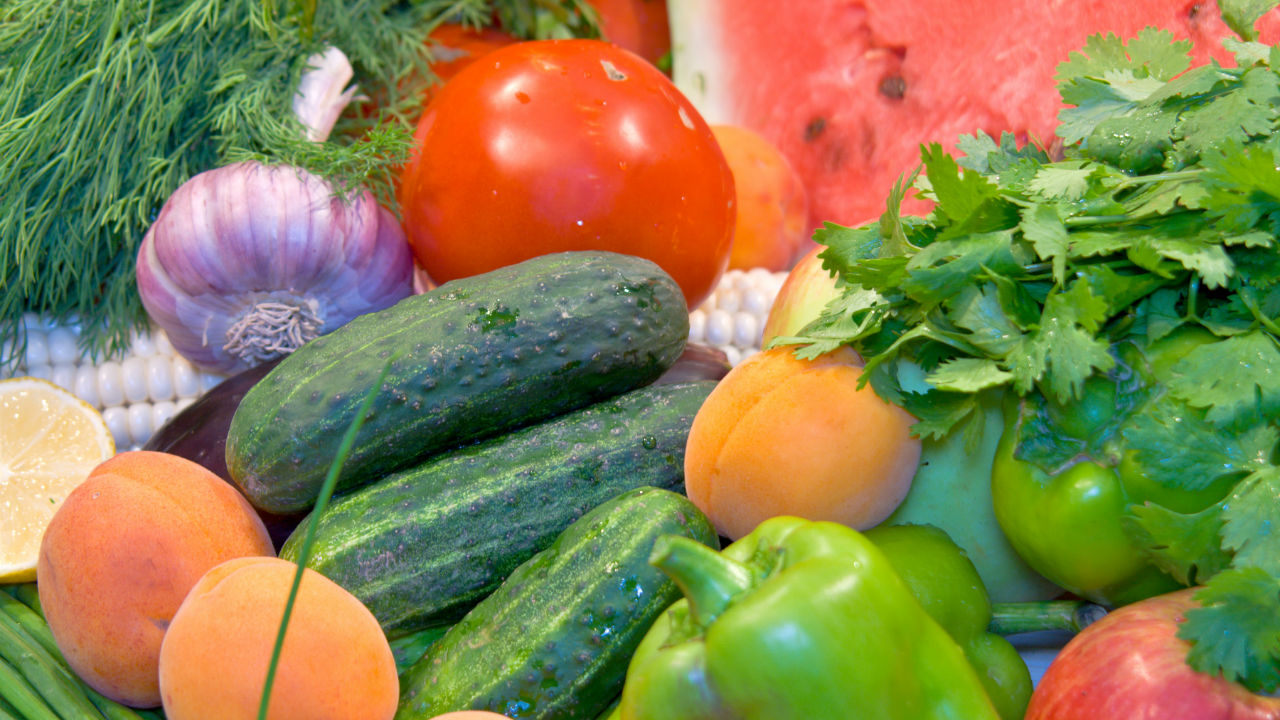 Photo: Getty Images
From the shelves at the supermarket to the status updates on Facebook, everyone's got one thing on their mind -- detoxing. After weeks of downing eggnog, endless slices of pie, and never-ending servings of seconds, thirds, and even possibly fourths, we could all use a little bit of a cleansing in the New Year.
Instead of resolving to only drink lemon water and maple syrup, incorporate these seven foods into your daily diet to keep you healthy and cleansed all year long.
1. Apples. Packed with pectin and fiber, an apple a day really does keep the toxins away. They work hard to get rid of build ups in the intestine and keep your digestive tract happy.
2. Garlic. From stir-fries to scrambled eggs, sautéing garlic into your diet is a great way to cleanse harmful bacteria from your body. Garlic has powerful antioxidants that cleanse everything from the respiratory tract to the circulatory system.
3. Grapefruit. Start your day with a side of grapefruit, an excellent digestive and liver cleanser.
4. Cruciferous Vegetables. The cruciferous veggie family includes everything from broccoli and cauliflower to brussels sprouts and cabbage. This delicious family of vegetables aids with the production of natural enzymes that help to free your body of carcinogens.
5. Kale. The trendiest veggie in the aisle, kale is a true superfood. It's known for its anti-cancer and antioxidant properties. It's also packed with fiber that keeps your intestinal tract cleansed.
6. Lemons. Say sayonara to coffee and start your day with a glass of hot water and lemon. Packed with vitamin C, it's the perfect, natural way to rid your body of toxins.
7. Turmeric. The liver's favorite spice. Try adding some of this detoxifying goodness into your next lentil stew or veggie dish for an instant liver pick-me-up. Turmeric helps boost liver detox, by assisting enzymes that actively flush out known dietary carcinogens.
Sources:
Turmeric. Whfoods.com.
http://www.whfoods.com/genpage.php?tname=foodspice&dbid=78
Turmeric and the Liver. Livestrong.com
http://www.livestrong.com/article/211962-turmeric-liver-detox
10 Foods That Detox The Body. Global Healing Center.
Retrieved Jan. 18, 2012.
http://www.globalhealingcenter.com/natural-health/foods-that-detox-the-body
5 Foods that Detox. Organic authority. Retrieved Jan. 18, 2012.
http://www.organicauthority.com/health/5-foods-that-detox.html
Edited by Jessica Obert