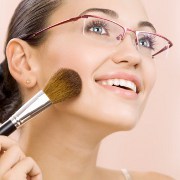 Photo: Getty Images
I've worn eyeglasses since I was 3 years old, and started wearing makeup at 13 so I can definitely relate to these two subjects. However, as a woman in my 50's, I'm no longer keeping up with what's trendy or "in". No more dark shadow, vampire eyeliner or Hello Kitty sparkles. As for frames, no more cat-eyes for this chick. I don't care if they are back in style! Less is more as far as makeup under eyeglasses. And, neutral is the new fluorescent blue.
If you are farsighted, your lens will make your eyes appear bigger or even blur the shape of them. If nearsighted, your eyes appear smaller. Experiment with the following tips and discover how you can look fabulous even when wearing glasses.
Tip 1: Because eyeglass lenses often accentuate the eyelids, make sure you hydrate them with eye cream to avoid the "crêpey" look before applying makeup.
Tip 2: Glasses cause shadows and may amplify dark circles or puffy bags under your eyes. Use a concealer and apply a matte powder or cream finish to set.
Tip 3: Opt for cream shadow in natural or muted colors. If you go too dark, your eyes will get lost behind the frames. You don't want to end up looking like Elvira. Powder shadow is fine if you have oily skin but cream is best and won't flake onto lenses.
Tip 4: Line the entire top lid along the lash line. Black or brown eyeliner is fine but use a gentle hand. If you opt for eyeliner on the bottom lid, a lighter color will look less raccoon-like and be sure to smudge for the desired effect.
Tip 5: Grab your eyelash curler and crimp once or twice. Curling your lashes will not only brighten and widen the eye, but will also prevent your lashes from brushing against your lenses.
Tip 6: Two to three swipes of mascara is sufficient. Steer clear of clumpiness; tissue off your mascara brush before using. Bonus tip: hold a business card behind lashes to avoid mascara marks on lids.
Tip 7: To ensure well-shaped brows, sweep upward with brow brush. Use pencil that matches your brow color to fill in sparseness. If you have thick brows, tweeze hairs beneath and between brows. Eyeglasses tend to accentuate brows so don't exclude this important step.
Tip 8: Dust on your favorite blush but if you're over 40, avoid the apple of your cheek. Suck in cheeks and brush along the concave upward toward the middle of the ear.
Tip 9: Balance out your look with a great lip polish. If you have bold eyeglass frames, you need a strong lip color. For metal or rimless frames, neutral or light colors will work. Bonus tip for women over 50: avoid ruby red, blue tones, or dark lipstick that may emphasize lines and wrinkles around lips. Nobody likes that look.
Tip 10: Resist matchy-matchy look with makeup and frames. You don't want to look like you're trying too hard.
Tip 11: Invest in a good magnifying mirror that enlarges at least 10 times. You can find a variety of styles at beauty supply shops or your nearest drug store.
Tip 12: Choose a frame that complements your face. Most optometrists will help you choose the right frame. If you look great, they look great. If you feel the need for a second opinion, bring a trusted friend that mirrors your style. Resist dragging Grandma along for the ride. She means well but while practical is good, we also want a style that flatters us to the max!
http://www.more.com/beauty/makeup/makeup-tips-eyeglass-wearers
http://www.make-up.becomegorgeous.com/make_up_basics/eye_makeup_tips_for_eyeglass_wearers-412.html
http://www.parenting.com/article/bright-eyes-makeup-tips-for-eye-glass-wearers
Tags: